I've said it before and I'll say it again: the Northwest Gravel Riders Facebook group is an awesome source of route and route condition information. Last week while scanning through the suggested routes page I came across an interesting prospect through the hills north of Darrington – a sixty-seven mile loop with two significant sustained climbs. The Darrington area holds a lot of potential for both gravel and technical mountain biking, and I'm always hip to make the ninety minute drive. With the route programed into our Garmins Steve and I left Seattle bright and early.
The predicted high for the day was nearly one hundred degrees, so we packed a bit of extra food and a water filter before leaving the car at the ranger station. After a nice easy warmup on the Whitehorse Trail, we crossed the Stillaguamish River on Swede Heaven (I love that name) Road and then started up the Segelsen Creek drainage.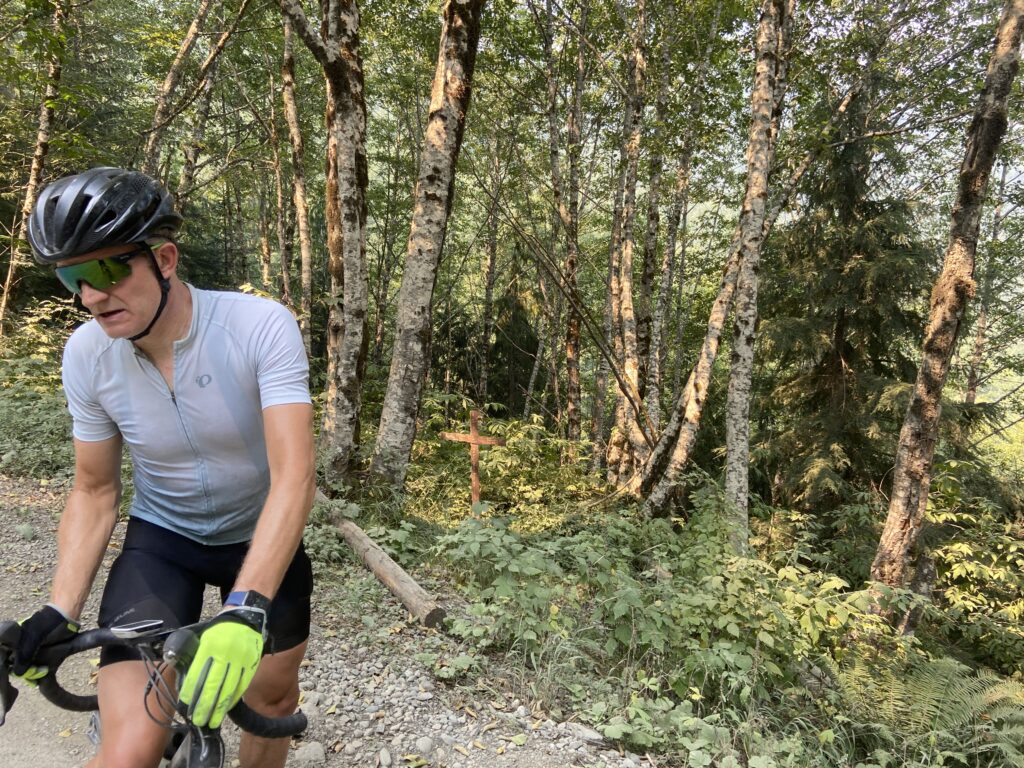 From the first few pedal strokes I could tell that this was an active commercial road, either gravel extraction or logging. The nice thing about an active road is the lack of potholes and other damaging damage. Active roads are also typically paved with packed down crushed rock – as opposed to pea gravel or railway ballast as we often see used on "bike trails." The negative side of commercial roads is commercial traffic, but I must say that I find professional drivers to be much more careful and courteous to cyclists than the typical gravel roader.
If one must climb three thousand feet this is the way to do it: smooth gravel, shade and a nice even grade. We did encounter a few gravel trucks, but we could hear them coming and simply pulled off to the side (on gravel I find it's best to pull over and let the trucks pass). At the summit we saw the reason for the trucks – they were hauling gravel up for the construction of a new road, probably a future logging operation.
I was riding my Yeti ARC twenty-six-inch hardtail that I've converted into a twenty-seven five drop bar rigid fork beast; this sweet ride tore up the smooth luscious twenty-mile descent. That old skool 26er geometry seems uniquely suited to Northwest mountain gravel. No it's not going to win Dirty Kanza, oops I mean Unbound, but on the steep ups and downs and predominately crappy gravel of the Pacific Northwest this old skool geometry seems to be the ticket.
Once through the descent – with one stop to filter water – we hit the devoid of traffic Concrete Sauk Valley Road, which I mistook for Highway 530. At first the Sauk river appeared to be dried up, but on further inspection I realized that it was a river of baby poop colored mud. I wonder if erosion due to forest fires is to blame here. Five miles down the road we came to a bridge crossing the Sauk and leading to Highway 530, we didn't cross this bridge; instead we turned right and continued up a steep gravel climb on the western side of the river. The road deteriorated until we were riding over baby heads on what appeared to be a dry stream bed. Two miles of rough stuff ended at the Christian Camp at the end of the aptly named Christian Camp Road.
I think that the person who originally laid out this route might have done a bit of back and forth at the Christian Camp as the digital route got a bit jumbled at this point. Steve and I ended up missing a turn, which in the end turned out to be a good thing as it would have taken us up to some hike-a-bike terrain. Instead of a fifteen hundred foot climb we rolled down a smooth descent and onto Highway 530.
As we rolled past the Sauk-Suiattle Reservation I noticed that the reader board noted a current temperature of ninety eight. Evidently I'm getting acclimatized to the head as I didn't feel hot, I mean it was warm, but it wasn't oppressive. We bucked a bit of a headwind on the final miles into Darrington, but Steve did most of the work at the front so I can't complain.
This is a really good route on really good gravel. If you plan to do it on a warm day bring either three bottles or a water filter.
Route information can be found here: Smoke and Dust | Ride | Strava