Despite being a born and raised Iowan (I left the state in 1988 at the age of 22) I must confess to being ignorant of most of the state, especially the northwestern quadrant. When I decided to ride RAGBRAI 2021 I was happy to see that the route would take me through this corner of the state.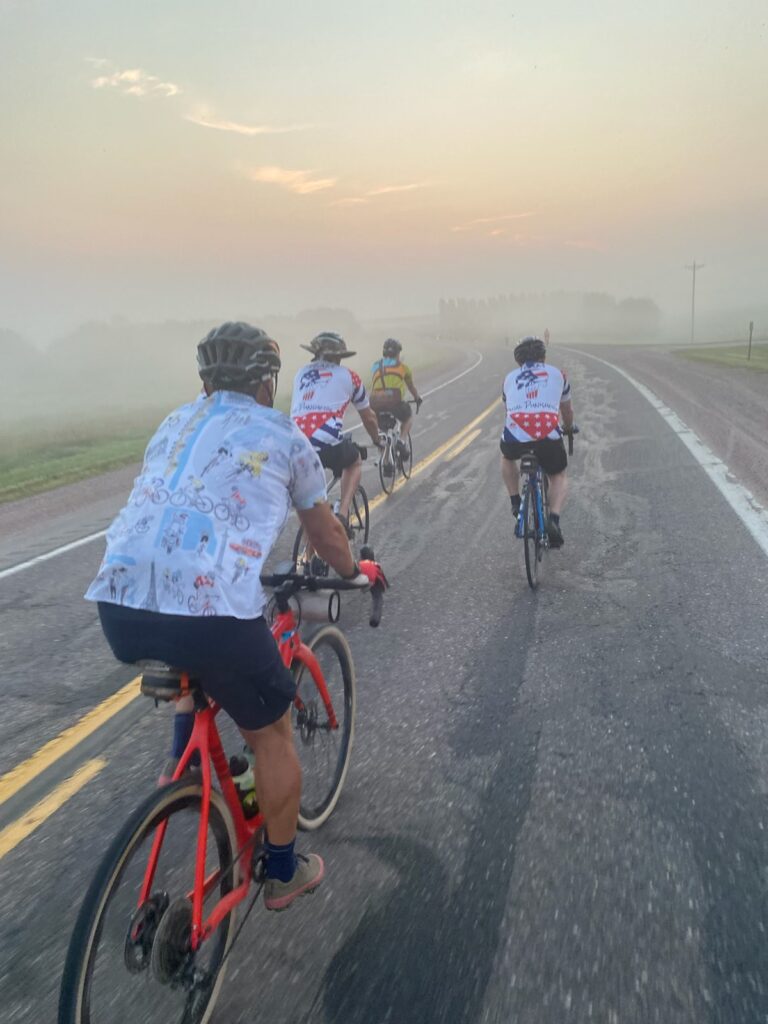 The 2021 route started in the northwest Iowa town of LeMars – not exactly on the Missouri river border but close enough. I was super impressed with the town; it seemed bustling and prosperous. The homes were beautiful, the lawns well-kept the streets maintained and clean. LeMars is the home of ice cream giant Blue Bunny and perhaps this is the fuel that drives this prosperity.
I, along with my crew, had signed on with the Quad Cities Bike Club charter and our day one camping area was in a leafy shaded city park. Dave, the most experienced member of our group with fifteen RAGBRAI's to his name, advised not to get used to this kind of shady comfort as this would probably be the best campsite of the week. Dave turned out to be correct.
While in LeMars, Iowa I was united with my three brothers: David, who had brought me, Mark who was riding with me and Donald, who had driven up his son, my nephew Owen.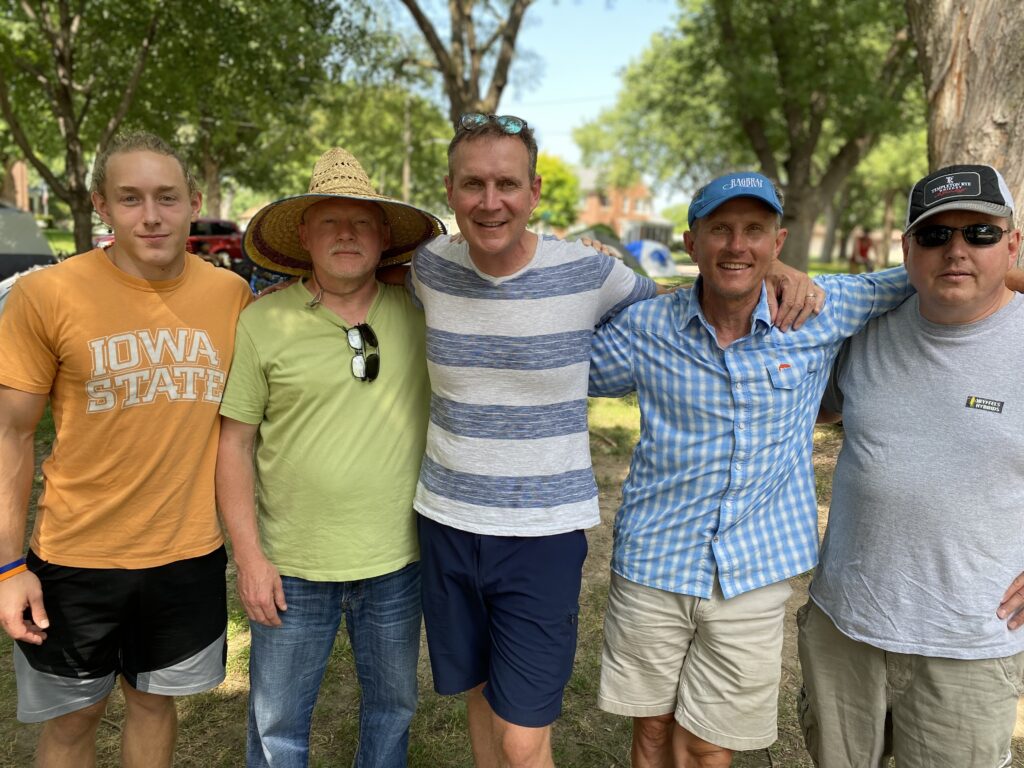 Due the predicted extreme heat and humidity our group all agreed to have wheels rolling at six-o-clock. We crawled into our tents at sunset and despite a few rogue voices the campsite quieted quickly. First morning bugs pushed us back to six thirty and as we rolled out of LeMars it was clear that we weren't the only ones with an early to rise early to ride strategy – a steady stream of cyclists stretched to the horizon.
Our group consisted of me, my brother Mark, my nephew Owen, Kallen, Dave, Gary and Gary's son Evan. Mark, Kallen, Dave and Gary are all experienced riders whereas Owen and Evan relied a bit more heavily on youth and fitness. The first few miles showed that we'd probably not all be spending the week riding together – there weren't major differences in pace, but as the miles rolled on gaps did emerge. Normally I like to start with a group and end with that group, but on this route numerous towns and roadside stops provided ample opportunities to regroup.
We had rolled out sans breakfast and, more importantly, sans coffee and I was hoping to see some sort of mobile breakfast spot within the first twenty miles. Fortunately, we hit a breakfast burrito stand within the first hour.
The first major town was Cherokee. The only fact that I knew about Cherokee was that my dad had been given a job offer there sometime back in the seventies. I remember my mom and dad driving there to look at the town and mom saying that she wanted to remain in Des Moines. Like LeMars, Cherokee appeared to be a very clean and prosperous town, but we didn't spend much time there, instead opting to push on to Alta where we'd get lunch.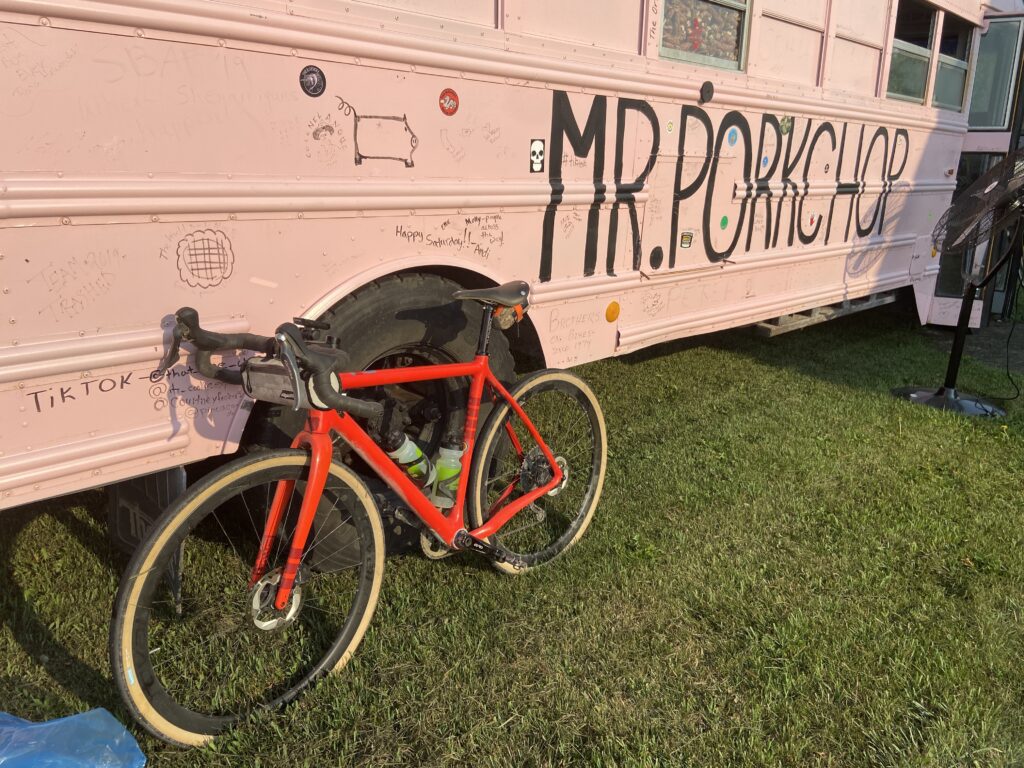 Alta came at mile fifty on an eighty-four-mile day. By the time we entered the city limits it was nearly noon and the sun was getting hot. This was our lunch spot and we sat in the shade of a brick building eating food truck grub, drinking smoothies and finishing up with ice cream.
The final thirty-five miles into Sac City were hot but we had a tailwind and made good time. The campground was at the edge of town with absolutely positively no shade whatsoever. Dave's prediction was becoming a reality.
After cleaning up and changing we went to see the world's largest popcorn ball – encased in its own specially made shed. We then hopped a school bus for a pasta dinner at a local church and then it was back to the campsite for ice cream (thanks Gary). The drone of the air conditioner at nearby warehouse lulled me to sleep; a good start to the week.