In late 2014, when times were much different, I opened up the autumn issue of Bicycle Quarterly and read about a bikepacking race that stretched the length of Oregon, it was called the Oregon Outback. That year the co-owner of Breadwinner Bicycles and fellow Des Moines, Iowa native, Ira Ryan won the 363-mile event with a time of twenty-eight hours. In those days I was all in on bicycle road racing; the thought of riding 363 miles on mostly unpaved gravel seemed alien, but intriguing.
Fast forward seven years, many things have changed, but one thing that has remained constant was my desire to ride the Oregon Outback.
In the early summer of 2021 my buddies Steve, Blaine and Erik began planning a ride of the Oregon Outback for early September. I was a latecomer to the group, buying my Amtrak ticket to Klamath Falls only two days prior to departure. Online ticket sales informed me that the bike racks in the baggage car were full, but a knowledgeable ticket agent at Seattle's King Street Station clued me into the fact that Amtrak sells cardboard bicycle boxes for ten dollars and once the bike is in the box you can load it as checked baggage.
Melony dropped me at King Street Station an hour before departure and within fifteen minutes I had my 2011 Yeti ARC boxed and loaded. Blane, Steve and Erik were in the waiting area, we were on our way.
This was my first long distance ride on Amtrak; fortunately, the guys had reserved a pair of two-person sleeper cars. The two-person sleeper is tight, but it came with lunch and dinner, both of which turned out to be surprisingly good. We talked, napped, ate and played Euchre in the observation car and thirteen hours later we were disembarking at Klamath Falls.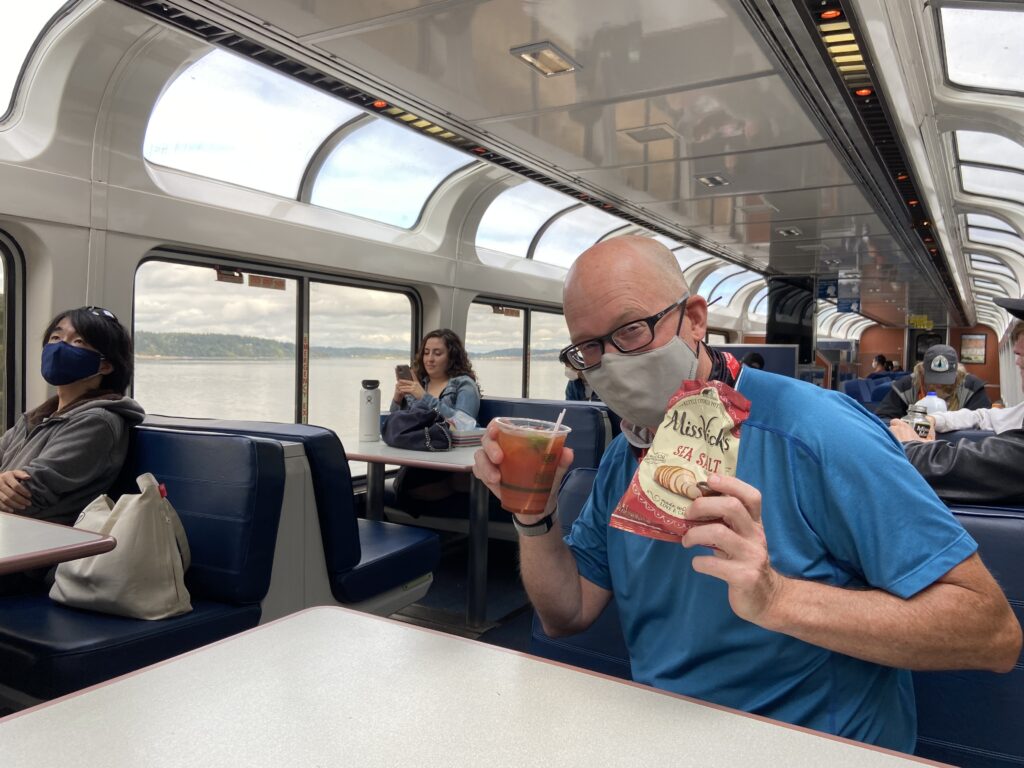 After a few minutes of bike assembly and bag loading we were following iPhone directions through the deserted streets of Klamath Falls. After making a sharp turn I nearly fell over when my front wheel hit my shoe – in my rush to get the Yeti rolling I had put my front fork on backwards.
Day 1 Klamath Falls to Bushcamp (68 miles)
After a somewhat nervous and restless night at the Maverick Hotel we rolled out onto deserted streets. The entire business district was closed for the Labor Day holiday. An internet search showed that the Black Bear Diner was both open and, on our route, so we rode the four miles to a big pregame breakfast.
We grabbed a booth with a view of our bikes and two minutes after sitting down a dude rolled up on a homemade motorized bicycle pulling a trailer containing two small dogs. A handwritten message on the side of the trailer read "have dogs will travel." The guy spotted our bikes and dropped his kickstand. It turned out that he had built the rig himself and he was now permanently on the road – having started "a long time ago" in Florida. He made it clear that he didn't want anything from us and that he'd only come into the restaurant to greet some fellow travelers. In hindsight I kind of brushed the guy off, I vowed to do better next time.
Oregon in general, and central Oregon in particular, has suffered from a sequence of major forest fires over the summer and the air quality in and around Klamath Falls was in the unhealthy category as evidenced by the bright orange sun and that eerie red haze. The smoke was bad, but not that bad, unfortunately I've seen worse.
After a few quick miles on a paved bike trail we hit the rocky and bumpy OC&E Line Trail. At mile 40 we were rolling steady when we hit the town(ish) of Sprague River. The only sign of life was at the small grocery store. It was midday and the place was crowded. The checkout line contained an abundance of sidearms, knives and facial tattoos. When doing these long rides I have a bad habit of withdrawing into myself and thereby missing the passing scenery and being courteous but not curious when it comes to the local people. After my breakfast flub I figured that I'd try to change my ways by striking up a conversation with a local guy sitting on a bench in front of the store.
We talked about a bike trip he and his wife took out to Lodi, CA, the weather, his recent marriage and his love of Yeti bicycles. I then met his new wife, his childhood sweetheart, who shared that she'd recently been released from prison. After the couple left to go cool off in the river Erik struck up a conversation with a retired local who drives his lawn tractor to the store to watch the daily happenings. Sprague River is a curious place.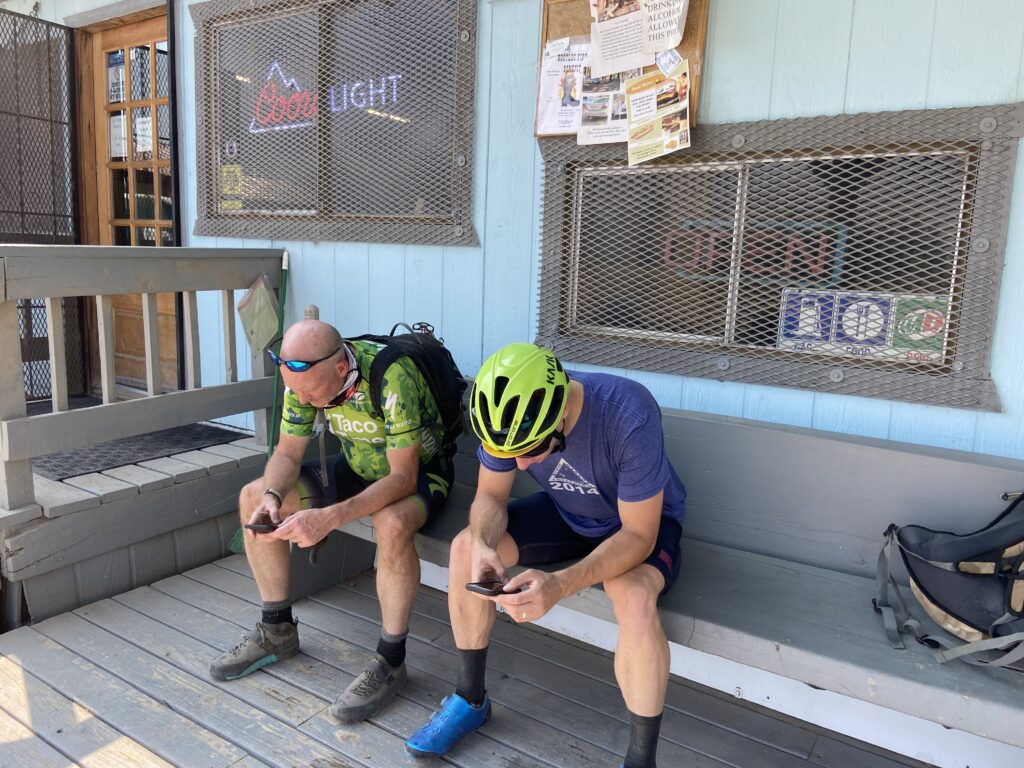 Intel told us to ride pavement between Sprague River and Beatty (pronounced Betty) as the off-road route was basically overland through a field. The stiff cross wind turned into a tail wind when we turned left onto Highway 140. The breeze blew us into Beatty where we found the local market locked. Our search for an unlocked water tap proved unsuccessful; thankfully Steve flagged down a local who allowed us free reign of his hose. We filled every container possible not knowing how much damage the fire might have done to the water source at our campsite.
Pavement turned to gravel which returned us to the OC&E Trail. This portion of the trail is covered in sharp red railroad ballast, we dubbed it the Red Menace. It hadn't been a hard day, but I was feeling worn out when we finally found the creek marking the general vicinity in which we should camp. We were in a moonscape: every tree limbless and black, the ground six inches of unconsolidated dust that kicked up a Pigpen cloud with every footfall. No way could we camp on top of that ash.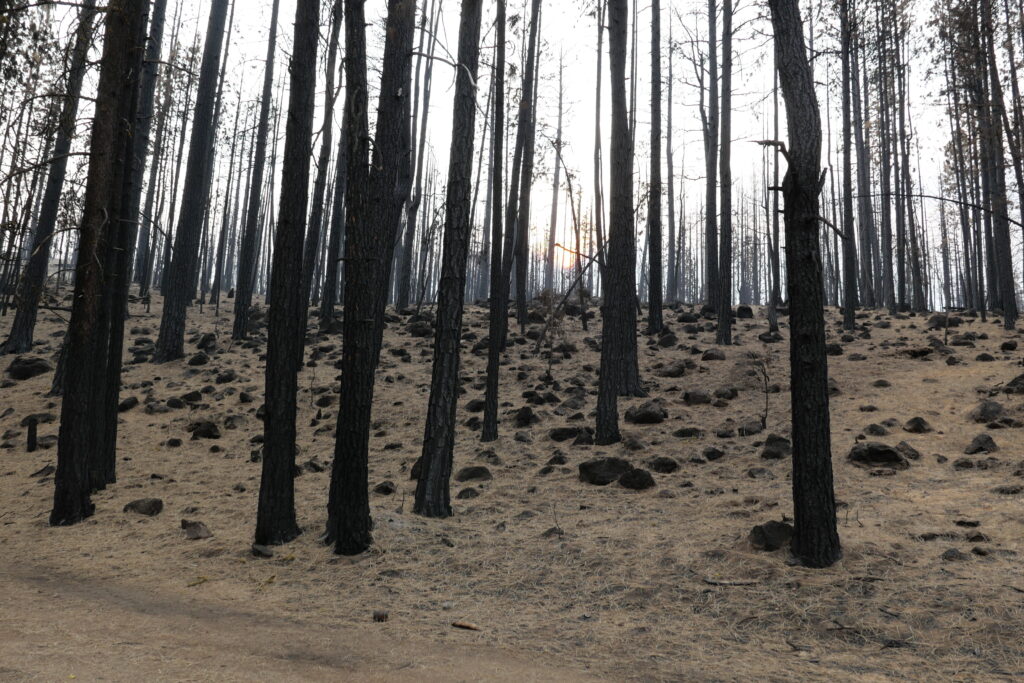 We went scouting and Steve found a small, unburned section along the creek probably two hundred yards off of the trail. After a long day the site looked perfect. After a quick wash in the creek and some rehydrated dehydrated meals we settled into a cool night under the stars.
Day 2 Bushcamp to Fort Rock (71 miles)
Day two began rough. Very rough. The first seven miles along the OC&E Trail took us a few minutes shy of an hour – more of the Red Menace. We happily turned left onto a road and rolled on a mixture of gravel and pavement the next forty-seven miles to the small town of Silver Lake. A sign on the grocery store reads:
Silver Lake
No Silver
No Lake
Just Good People
The grocery was well-stocked, and we bulked up in preparation for the next day where there would be no resupply for ninety miles. I nabbed the last corn dog which sent Erik down the road to the gas station in search of a reputed mini pizza.
The final seventeen miles into Fort Rock were on white gravel, what one commentator on Bikepacking.com dubbed the White Sauce. We had gotten a bit of a late start and the afternoon sun was beginning to cook. No shade in these parts. Erik and I slowed down and spun a comfortable pace while Steve and Blaine, anticipating beers in town pushed the pedals.
Erik and I rolled into the tiny crossroads of Fort Rock, Oregon where our compadres had already tied their rigs to the hitching post at the Waterin Hole. Good IPA was on tap, but I was too hot for anything sturdier than a cold Bud Light.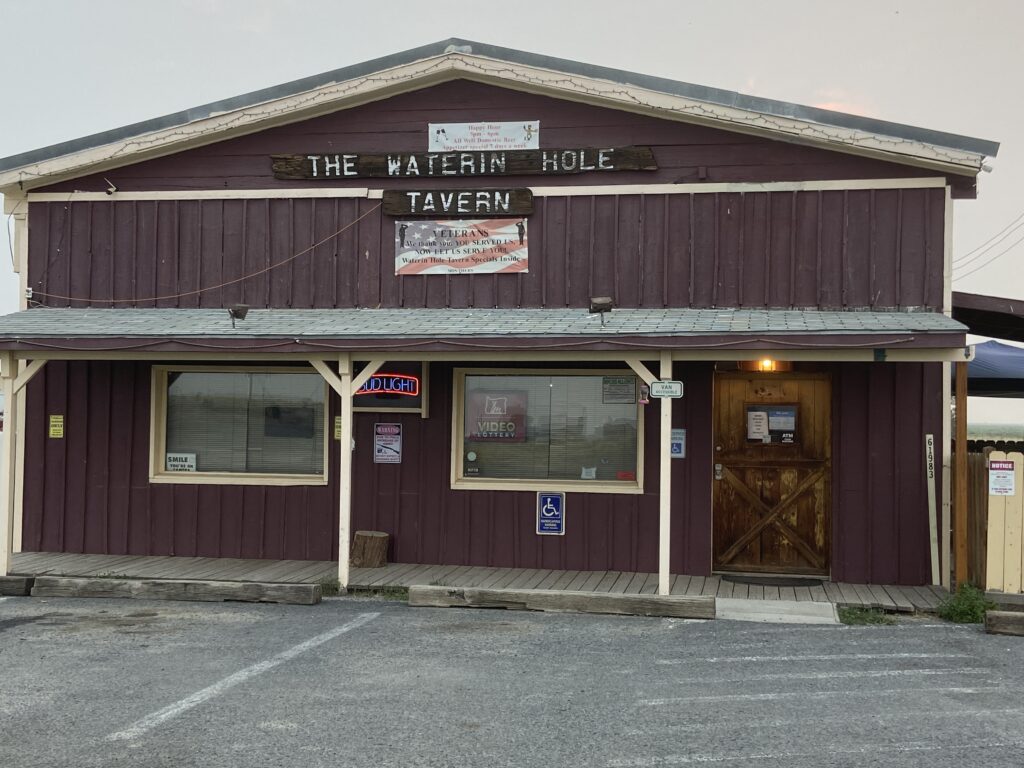 The bartender seemed excited to talk to someone other than the local clientele, who had yet to come in. She told us that the owner of the bar also owned a hotel in town: two rooms with a common area, seventy bucks per room. With nowhere else to go we immediately dropped the one forty. She gave Steve and I the code to the front door and pointed in the general direction of the hotel. The town only had a dozen buildings so we figured how hard could it be to find a hotel. Pretty darn hard actually.
Steve and I rolled past every building, none had a hotel sign, nothing appeared hotel-like or even hotelish. We went back to the bar to get more exact directions (behind the building with the blue roof). When Steve tried the code on the back door of a pole barn surrounded by old go-karts and VW dune buggies the light clicked green. "That's weird" he said.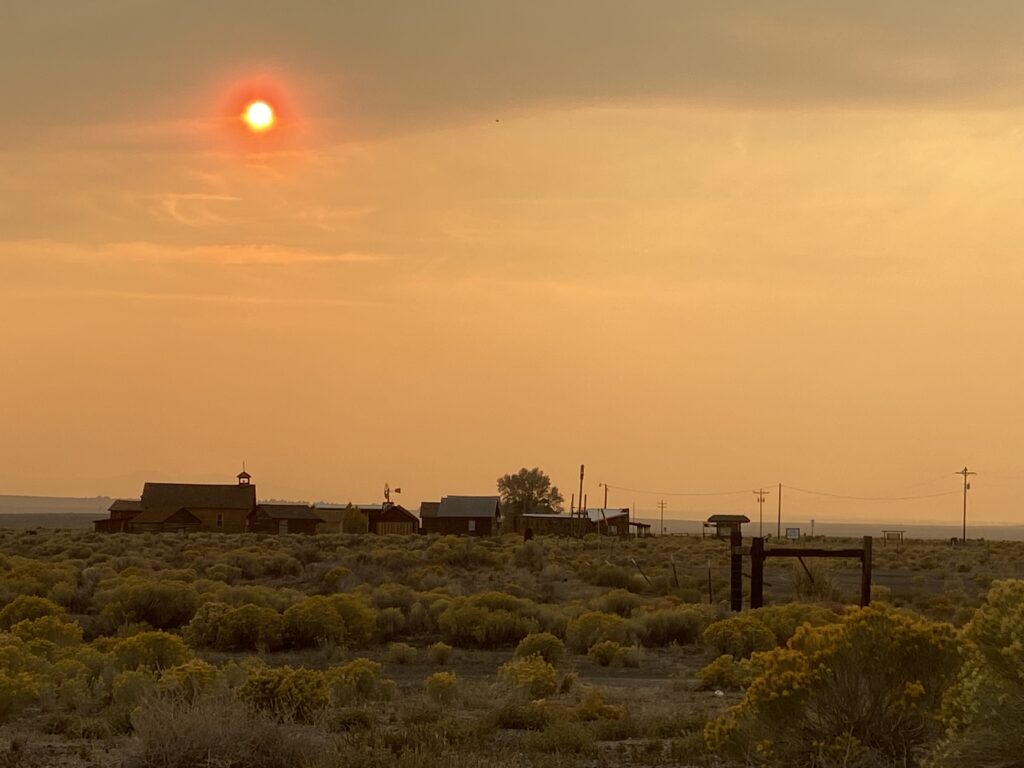 The "hotel" turned out to be a local's workshop slash game processing facility. Large wooden letters over the door dubbed it the "Meatin Place." Oh well, we had a toilet, a shower, power and an escape from the heat. A win in my book. Erik and Blaine doubled up on the queen bed, Steve took the single and I slept on the floor.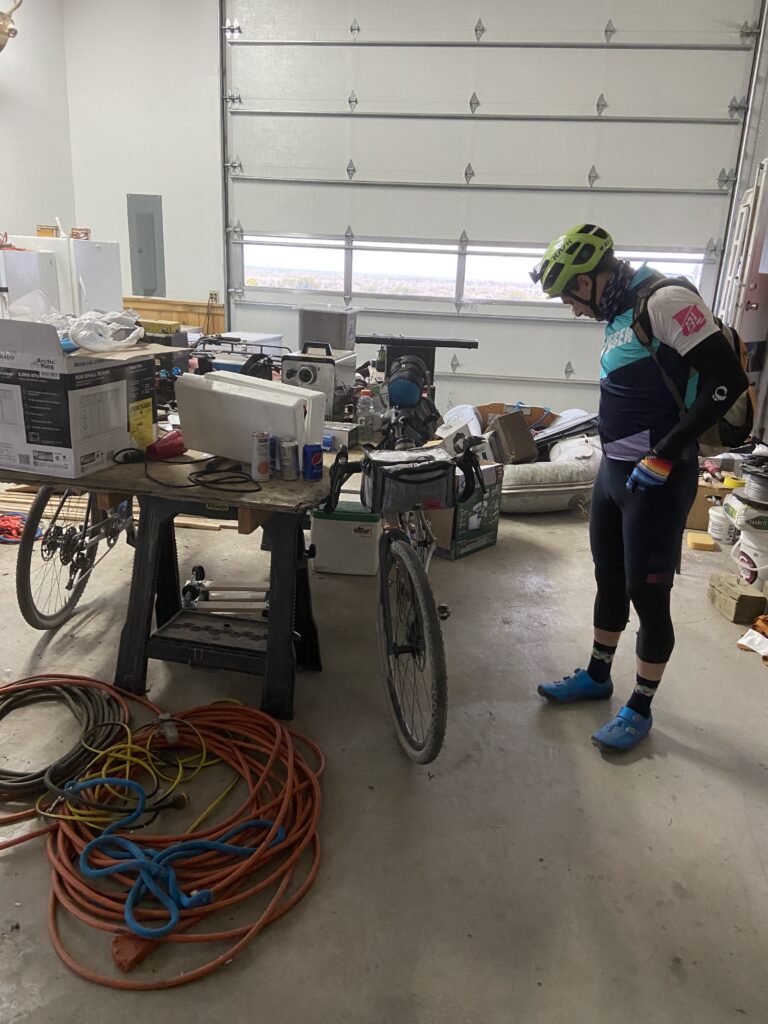 Day 3 Fort Rock to Prineville (90 Miles)
This was to be the crux day – 90 miles no water no resupply. But wait. It's good to have friends in high places: our good buddy Paul had recently moved to Bend, and he graciously agreed to leave us a water cache midway – where the route crosses Highway 20. This may seem like an extravagance but in this arid landscape of nearly zero relative humidity water goes down like, well, water. I left Fort Rock with four bottles of water and one bottle of Gatorade, forty miles in, when we reached the cache, I was nearly dry.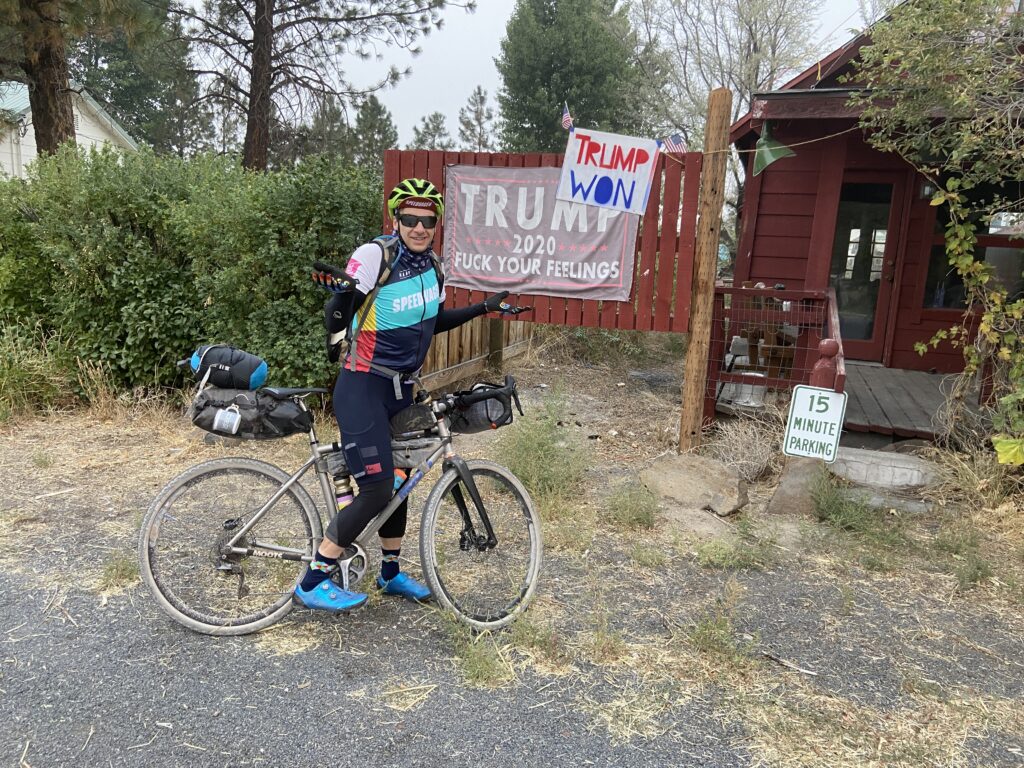 We got an early start out of Fort Rock hoping to beat the heat. This would prove to be the smokiest portion of the route. The namesake Fort Rock, an ancient cinder cone, was reduced to a murky shadow, had we not known where to look we would have missed it.
The route for the day is basically due north with a little easterly bump into the Ochocco National Forest. The first twenty miles are a gradual uphill, but then, save for one bump, the rest of the day tends downward. Some soft red rock, we dubbed the Red Death, slowed us a bit, well me at least, but for the most part the riding conditions were good and the weather relatively cool. Two super sweet downhills took us to Highway 20 where we rode east on pavement towards Brothers for about a mile before returning northward on gravel.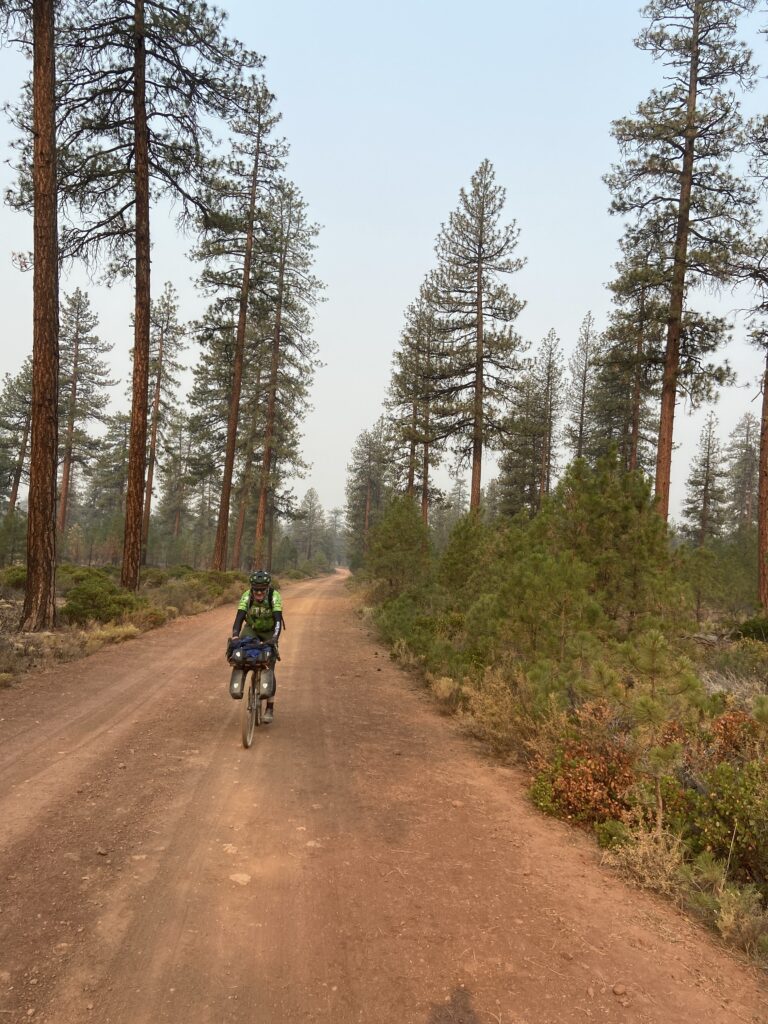 Just as Paul had promised a garbage bag containing four gallons of water, four cans of coffee and an assortment of candy bars and energy bars lain hidden behind the sixth telephone pole. We all did a little dance.
The first mile north of Highway 20 is miserable loose marble-sized gravel and I was worried that we were going to be in for a rough afternoon, but then it smoothed out and we were cruising. This is a really relaxing portion of the route and due to its general downhill nature we made good time to the climb leading up to the Prineville Reservoir.
I'm a bit of a dense fella and climbing isn't my forte, but I've been trying to channel my inner Lael Wilcox and convince myself that I like going uphill. Thankfully my good old Yeti has vintage mountain bike gearing (i.e. a triple up front) and I was able to find my rhythm and cruise up no problem. When it comes to remote bikepacking I think you could do a lot worse than a three-by setup with nearly failproof bar end shifters. Integrated brake/shift levers are fantastic and have transformed cycling, but out here, in the Outback, they seem a little failure prone. Bar end shifters, heck you could whittle replacement parts if you had to.
During the climb Steve noted that this will be nothing compared to tomorrow's climbing to which Erik replied, "that's a problem for tomorrow Erik, right now I'm concerned about today Erik."
It turned out that the rumors were correct: the final twenty miles into Prineville is all downhill. Dropping down from the Prineville Dam we hit the Crooked River, a beautiful fly-fishing river flanked by those octagon basalt columns that are so characteristic of Central Oregon. The river is flanked by camping areas, and I made a note to return here with the fly rod. Steve correctly pointed out that we could have filtered water from the river had we been in dire straits, but thanks to Paul I still had two full bottles.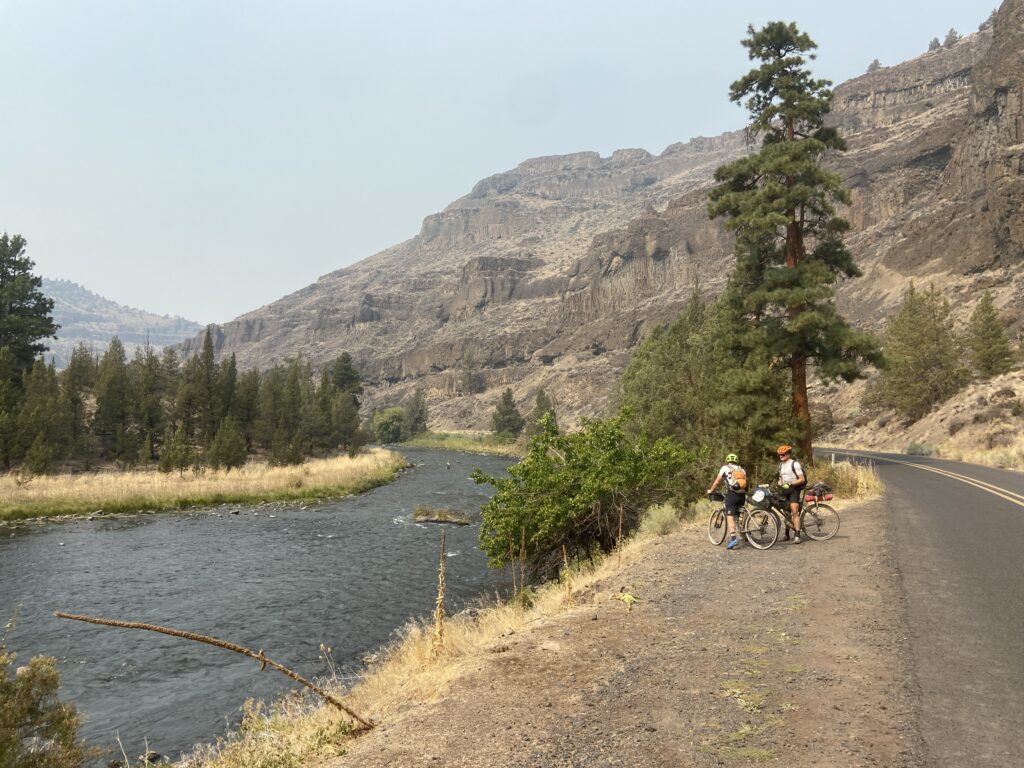 Prineville is the only major town on the Oregon Outback. It's the county seat for Crook County, and has restaurants, brew pubs, hotels, grocery stores and laundry mats. Steve graciously volunteered to launder our kits, a job that turned out to be more than he had bargained for. That evening we met Paul for dinner at a brew pub and then slept in comfy hotel beds.
Day 4 Prineville to Shaniko (77 Miles)
With a bit over six thousand feet of climbing this would be our most strenuous day, but it was also the most beautiful. The first climb started at the Prineville city limits and continued for twenty miles up to a summit height of five thousand feet. The descent was a bit rocky and Blaine suffered our first, and only, mechanical – a sizable sidewall cut. With the aid of a boot and a tube we were back on the road.
From our first highpoint we had a lot of downhill. So much downhill that I was beginning to wonder how the hell are we going to climb out of this pit. As we descended towards Ashwood we got into some severely loose rock. Luckily, we quickly found the culprit: a dump truck had laid down a ribbon of fresh gravel followed by a motor grader that was spreading the stuff across the road. We whipped around the grader and our lives immediately improved.
There is no shortage of cool shit for backroads travelers to stumble upon, but one of my favorite experiences is Frank's Store in Ashwood, Oregon (note that the Cowboy Dinner Tree was closed when we passed through Silver Lake, so we missed that experience). Frank's is a well-stocked refrigerator with an honor jar. The Coke tasted so good I had a second one (the nice thing about not drinking soda on a regular basis is that it tastes so dang good when you have it) and an ice cream sandwich. I also wolfed down two ham and cheese sandwiches that Erik and I had made back in Prineville. I was going to need these calories.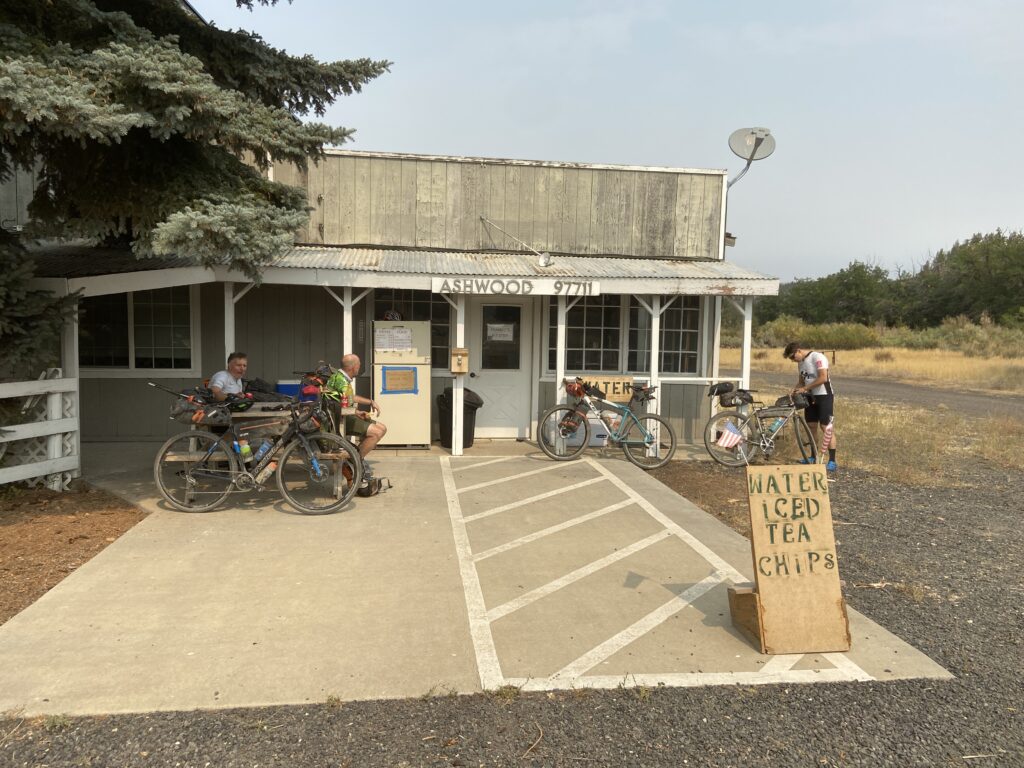 The climb out of Ashwood is brutal, no disputing that. After the initial shock the hill kind of rolls onwards and upwards. As we were settling into the long climb we heard a crack of thunder and the skies opened up. "Dang that's hail," Erik said. As soon as the storm had started it ended. We got one more good washing before the storm passed through.
The route climbs for twelve miles finally ending at a lone house atop the hill. "I guess that guy don't like neighbors" Erik pointed out.
During the descent into Antelope we passed Young Life Road. Something about Young Life and Antelope, Oregon sounded eerily familiar. One look at Antelope dashed any hopes of a short stop and a possible cold drink. Numerous No Trespassing and Keep Out signs told us to move on.
The long winding paved climb out of Antelope looked worse than it was. The scenery was dramatic, the pavement good the cars few. It was okay.
After the climb came a nice descent which took us to within one mile of Shaniko, then came the final stinger – a stiff climb up to Highway 97.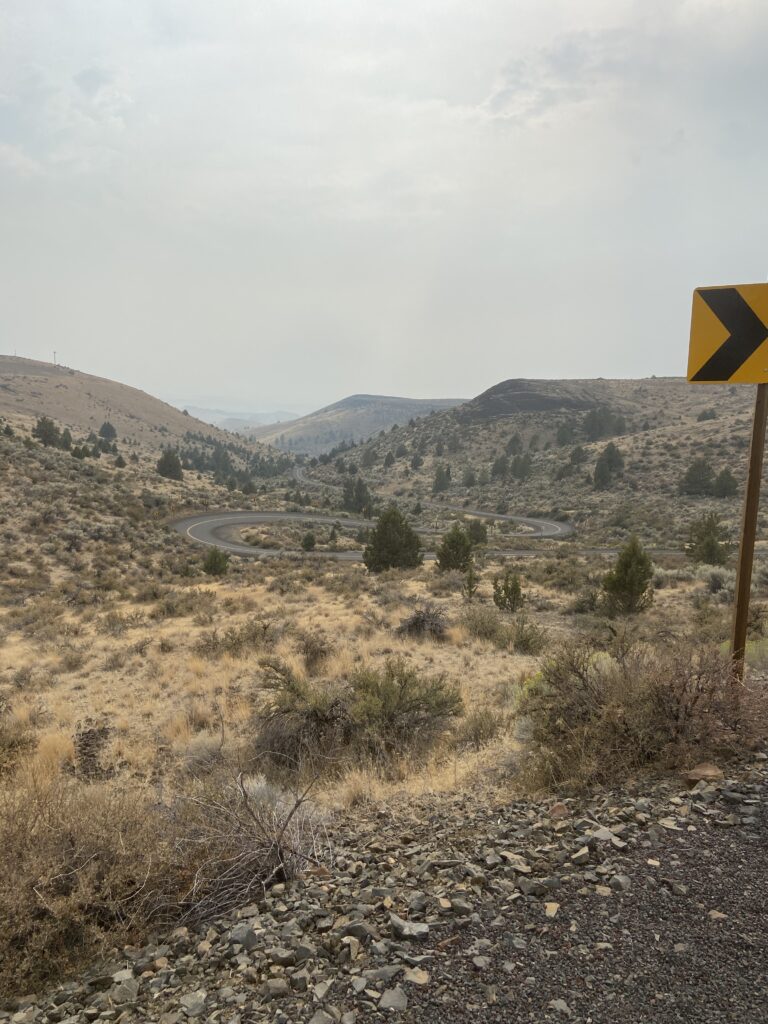 Okay so I try to be positive, look for the good, but there is no good in the miserable little store in Shaniko, Oregon. That's all I'll have to say about that.
Fortunately, we stumbled across the Seven Directions Ice Cream Shop where the two awesome owners not only sell ice cream but also hot dogs. Big hot dogs. I had two. No need to heat up that ramen and potted meat product that I had brought for dinner.
The afternoon was hot, but the weather was turning; the forecast called for a near certainty of rain. Rain would be a blessing for the local crops and would help dampen the forest fires that have plagued central Oregon over the summer so I tried not to curse the coming rain, but maybe it could hold off for just one more day.
There isn't much to Shaniko but one thing that it does have is a roofed pavilion; the ladies at the Seven Directions said that it would be no problem for us to camp there. A public restroom, popular among truckers, is also close by. And, by the way, the Seven Directions are:
North
South
East
West
Above
Below
Center
The roof turned out to be very useful as the skies opened up at four in the morning. Shaniko is a well-know ghost town, I know that ghost town doesn't mean haunted, but for some reason I felt off balance here. I had trouble sleeping and all night cars would pass us on a road that went to nowhere. I got out of bed at around five to go to the restroom to see a car, lights on, sitting in a field about three hundred yards away. Maybe a drug deal, but drug dealers typically, at least to my limited knowledge, aren't early risers. To put it short I was eager to get out of town.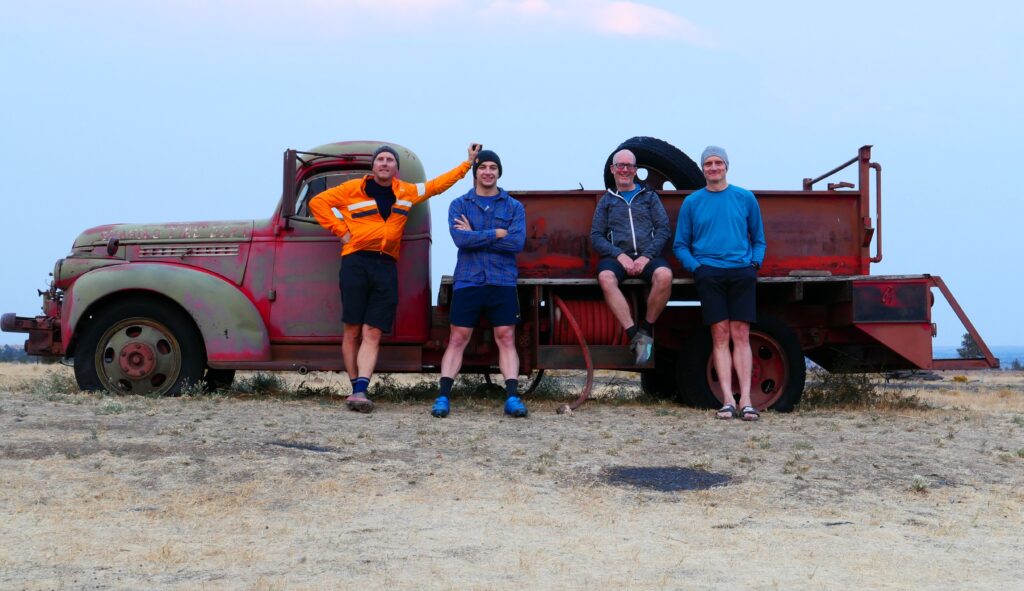 Over breakfast Steve said that he'd gotten a message on Strava from our friend Martha W. saying that we'd ridden past the former site of the Rajneeshpuram Community, which is chronicled in the documentary Wild Wild Country. Now the Antelope mystery made sense. If you don't know what I'm referring to watch the movie it'll blow your mind.
Day 5 Shaniko to The Dalles (74 Miles)
Luckily I had packed the good raincoat.
The ride started with a twenty-eight-mile shot up Highway 97 to the town of Grass Valley. It's raining – hard – and we're riding up a shoulder on a big rig-infested highway, but all four of us were grinning ear to ear. The tailwind must have exceeded twenty knots; I was the last to arrive in Grass Valley and I did the twenty-eight miles in an hour and twenty minutes.
The little store in Grass Valley is wonderful. It has a small seating area – inhabited by local ranchers – maple bars and breakfast burritos. Due to the nasty weather we decided to stay on the road another ten miles to the hamlet of Moro where we took a number of wrong turns in search of Van Gilder Road. We were now back on gravel.
A couple of steep kickers and a gradual ascent took us into some thick fog. The initial descent was a bit nervy as I couldn't see more that ten yards down the road. We eventually got onto the paved Gordon Ridge Road that jetted us downwards to the confluence of the Deschutes and Columbia Rivers.
The Oregon Outback Route ends at the base of the hill at Deschutes State Park. The problem was that our rental car was fifteen miles away in The Dalles. There was no UberLift, no Taxi and riding Interstate 84 was very undesirable. We talked of hitchhiking, of sending one person, packless, to get the car, but in the end we all settled on what what we knew we were going to do all along – a steep gravel ride up out of the Columbia Gorge and then into The Dalles.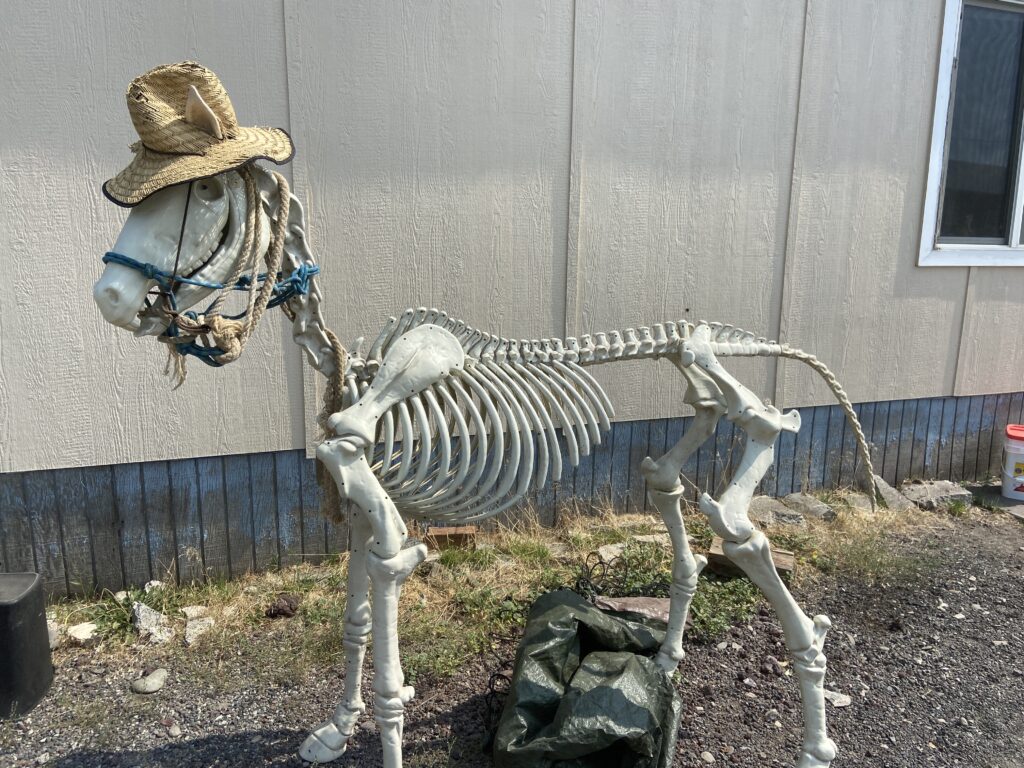 The climb up Old Moody Road is tough, but from there it gets tougher. The wind and the rain nearly knocked us over as we struggled across the high ranch county in search of the paved road that would lead us into town. Finally, we hit the pavement and cruised into The Dalles in search of a warm shower, beer, pizza and a comfy bed.
The "Outback" is an appropriate name for this route. It is definitely out there. So long as you are prepared for the remoteness this route is a great not too difficult bikepacking experience.