Quilcene to Blyn over Bon Jon Pass.  50 Miles with 5300 ft of climbing. Route information can be found here: https://www.strava.com/activities/3474734201
Bon Jon Pass is on the remote Olympic Peninsula between the small town of Quilcene and the extravagant gas station at Blyn. I learned of the route by stalking Kiel Reijnen's (local resident and member of Trek-Segafredo) Strava posts. While attempting to do Rapha's Festive 500 in one go my buddy Dan and I ran into Kiel and three mega-fit accomplices at the Blyn store. I later went to Kiel's Strava feed to see where the group had come from and thus discovered Bon Jon Pass.
Brian and I rolled out of Quilcene under sunny yet cool skies. I find that on these mountain gravel rides it works best to roll out slightly overdressed as my pace, as well as the mountain air, tends to be a bit cooler. The first few miles up Highway 101 were easy and non-threatening. We turned off the main road at Lords Lake Loop and began our climb up the chip-sealed road.
A chain-link fence surrounds Lords Lake making me think that it might be a municipal water supply. The lake is scenic, tranquil and drivable thus making it an appealing alternate starting point for the route. We turned left onto gravel where the climb started in earnest.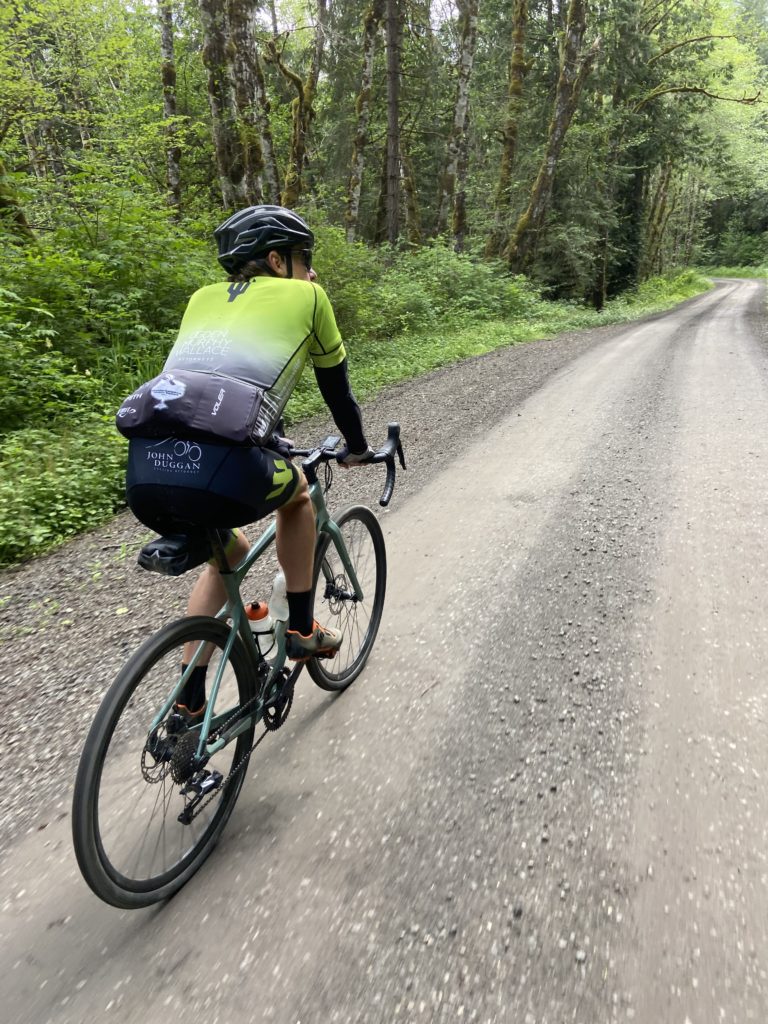 This is a stout climb with much of the gradient in double digits. Brian and I climbed at a steady pace enjoying the cool weather and the fresh forest air. There is a bit of a plateau near the summit followed by some good well-maintained downhill. The roadway was a bit muddy in places and I had to really slow down and pay attention or else risk sliding out my 38mm Rene Herse Barlow Pass tires. I really like the Rene Herse tires for dry gravel, but with virtually no tread their kryptonite is mud.
At the bottom of the descent we turned onto Palo Alto road which led us through a verdant mountain valley. Brain and I slowed down to absorb the surrounding scenery. Palo Alto leads to Sequim but sine we were heading for Blyn we turned right on the oddly named Jimmy Come Lately road and glided past a few houses/cabins on a rough road. The route is doable without the three-mile detour into Blyn, but we made the turn and rolled into the gas station in search of food and soda.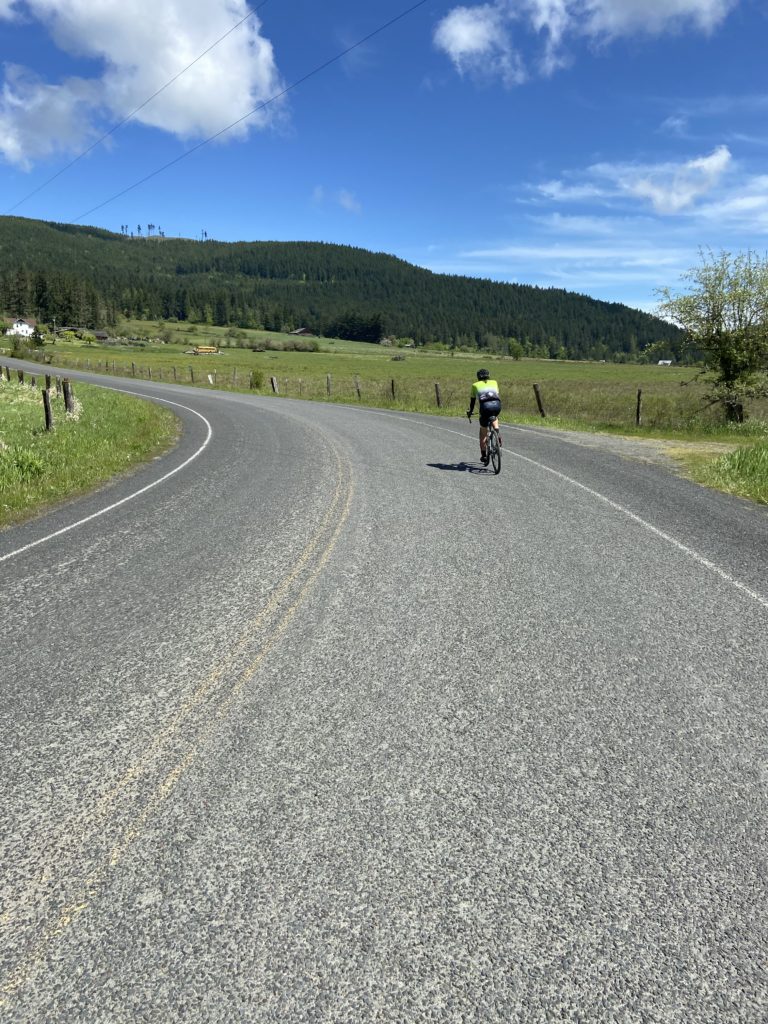 The gas station/mini mart had its usual cast of unusual characters with one person wondering if we "were born yesterday." I'm not clear on the thought process behind that comment.
With a breakfast burrito and a Rock Star in my stomach we started the climb back up to the route. The return trip has some climbing, but it is much more laid back than the roll over Bon Jon. This is the kind of gravel that they write stories about, smooth, shaded, gentle rolling grades, and before long we were back at Lords Lake.
We zoomed down the Loop Road, then back down 101 to Quilcene where a couple of cold Cokes waited for us in the cooler. The route was 50 miles with nearly 5300 feet of climbing. A good way to spend a sunny day.