44 mile, 60% gravel, 3400 ft of elevation ride starting and ending in Darrington, WA. https://ridewithgps.com/trips/49199671
During my climbing years I'd often pass through the town of Darrington on my way to the North Cascades. I like the town, it seems honest, hardworking, durable. Like many small towns across the U.S. Darrington seems to be struggling, but unlike many similarly-sized towns the city leaders seem to be embracing tourism, namely mountain biking, as a revenue source. Like the Eastern Washington towns of Leavenworth and Winthrop, Darrington has ease of access and natural beauty to spare, this scenic town can become a destination not only for the urbanites of Seattle and King County but for dirt riders from all corners of North America.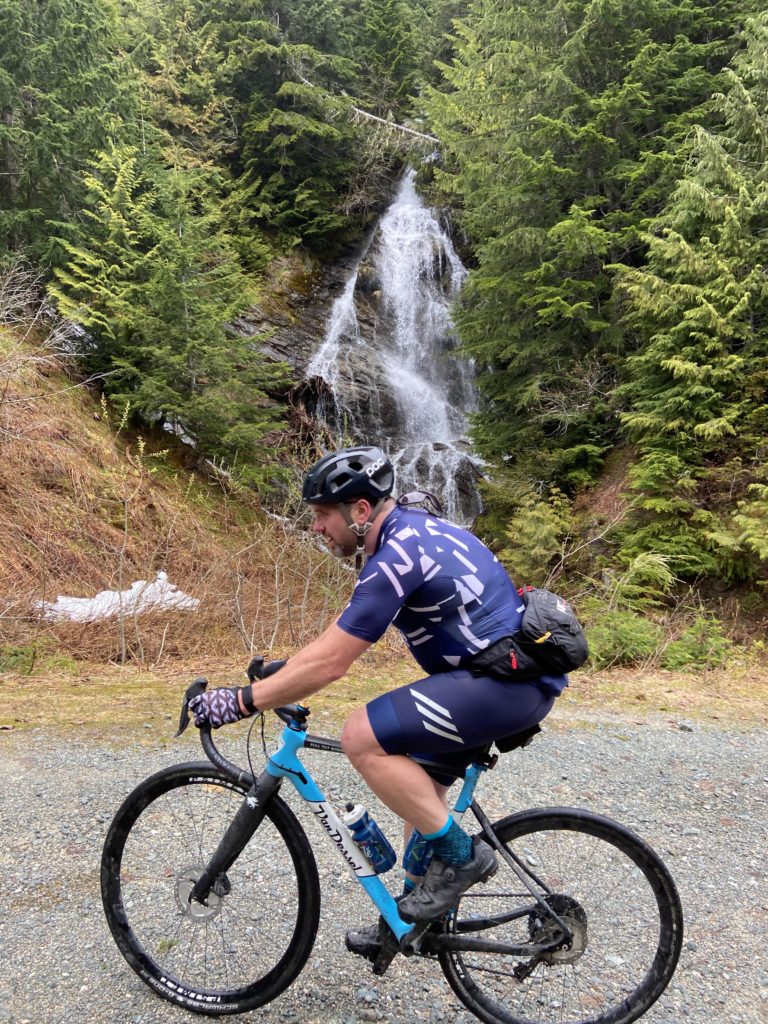 Ben and I decided to begin and end our exploration of Rat Trap Pass in Darrington. I knew about Rat Trap because a Rene Herse tire is named for the Pass, but I knew no details, so this was going to be a true adventure – outcome uncertain.
Ben and I got an early start out of Seattle and as we rolled into Darrington he asked: "do you think there'll be snow."
"Maybe a little," I said thinking that we'd see a few patches, but nothing sustained.
We had a basic idea of how to access the Pass, but no recent data, but uncertainty is part of the appeal. The temperature was cool enough for arm warmers as we followed the Sauk River northbound on Highway 530. The road was quiet, and the shoulder was wide, but nonetheless I was happy to turn off the highway and to start our climb into the mountains. The new life aroma of spring was strong in the cool morning air.
We crossed the Suiattle river at an impressive bridge and began a steep gravel ascent. These remote gravel rides require finding that correct gearing and adopting a steady all-day pace. Both Ben and I quickly settled into a sustained pace as we gradually gained altitude.
We passed a series of early spring waterfalls; vehicles had been up this way and though a bit rough the riding was fine. We eventually hit a major washout that had taken ninety percent of the road, thus marked the end of four-wheel traffic. A second washout had taken the entire road and Ben and I had to push and carry our bikes along the thin thread of remaining roadway.
The road above the second washout had become a braided streambed and we had to push our bikes from side-to-side in order to keep our feet dry. And then came the snow. At first only the road was snow covered, with the surrounding forest bare, but soon we were into a world covered in soft slushy snow. Ben and I simply got busy pushing; neither of us questioning the wisdom of continuing forward. What had begun as a light mist was now steady rain, but I wasn't cold, and Ben seemed fine, so we pushed onward.
Estimation of distances in these circumstances is difficult, but I can confidently say that we pushed our bikes well over two miles. Fortunately, we'd gone from north side to south side, so the snow level was higher on the downhill portion.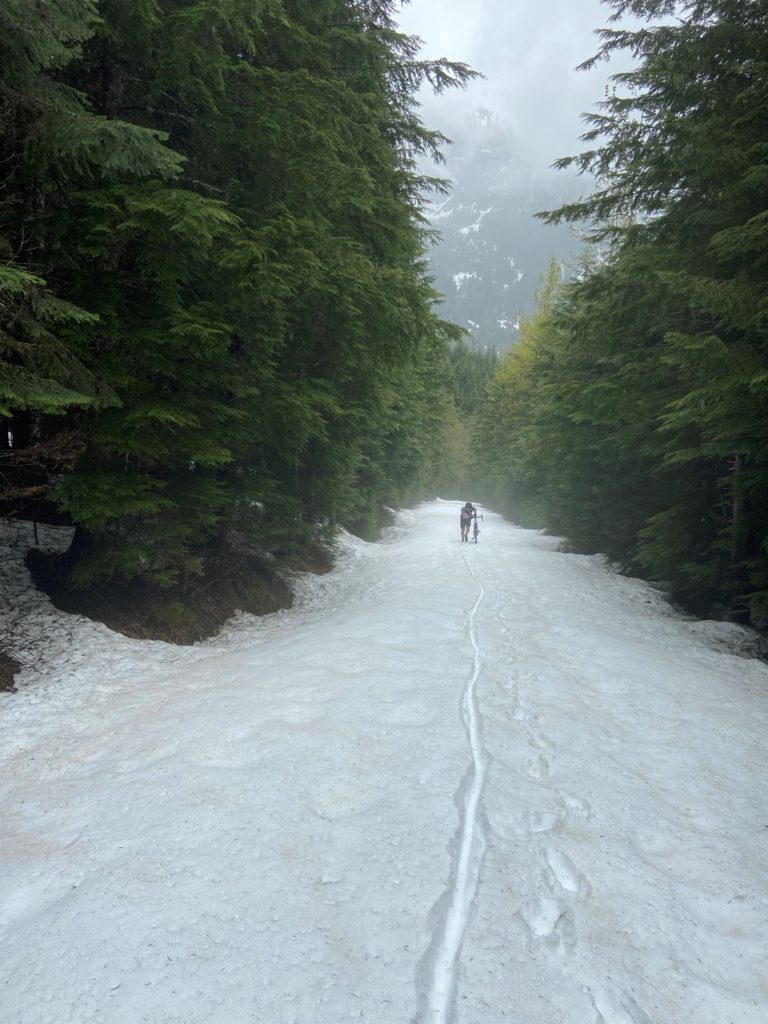 The descent down to the Mountain Loop Highway was fast and enjoyable. By the time we reached the pavement the rain had stopped, and my hands were finally coming back to life. The return into Darrington is fast and smooth and we both put the hammer down and enjoyed some easy road miles.
In hindsight we hit Rat Trap Pass two weeks too early. Next time I head that way I'd like to tack an ascent of Barlow Pass onto the back end.
Here is a link to the route: https://ridewithgps.com/trips/49199671