Granite Falls to Barlow Pass to Darrington to Arlington to Granite Falls. 95 miles with 14 miles of gravel and 4500 feet of elevation.
One thing that I really enjoy is knocking off something that's been on the hit list for some time. The idea of cycling Washington's Mountain Loop Highway has been floating around in my head for three years now, and when I found myself with a free Saturday and a clear forecast I decided to turn the idea into a reality.
I fancy myself a social guy, but having spent the past seventeen years as a stay-at-home parent and owner of a small one man-operation business I've grown comfortable with being alone. I decided to do the Loop trip solo in order to keep it simple: I could start and stop at my leisure, and I could ride my own pace. More importantly I needed a break from bike racing and training for bike racing where it's hammer time all the time. I needed to get out and ride – on my own terms.
As the name suggests the Mountain Loop Highway is a loop – eighty one miles of paved road plus fourteen miles of gravel/dirt with a total of forty five hundred feet of elevation gain. I tackled the route counter-clockwise starting and ending in the town of Granite Falls. Traveling counter-clockwise meant that I'd ride the steady twenty two mile climb to Barlow Pass on pavement and then descend towards Darrington on a poorly maintained dirt road.
My Moots PsychloX was already outfitted with 32mm Compass Stampede Pass tires, so the only trip specific change was attaching the mount for my Ortlieb Ultimate handlebar bag. I loaded the bag with a spare tire, two tubes, a pump, a basic repair kit, food and my trusty Nikon V1 camera. Personally I prefer real food over power bar type stuff, so I packed a turkey/swiss sandwich, four chocolate chip cookies and a bag full of Twizzler Bites (the secret weapon). I brought two water bottles, one filled from the tap and the other with two scoops of Hammer Sustained Energy.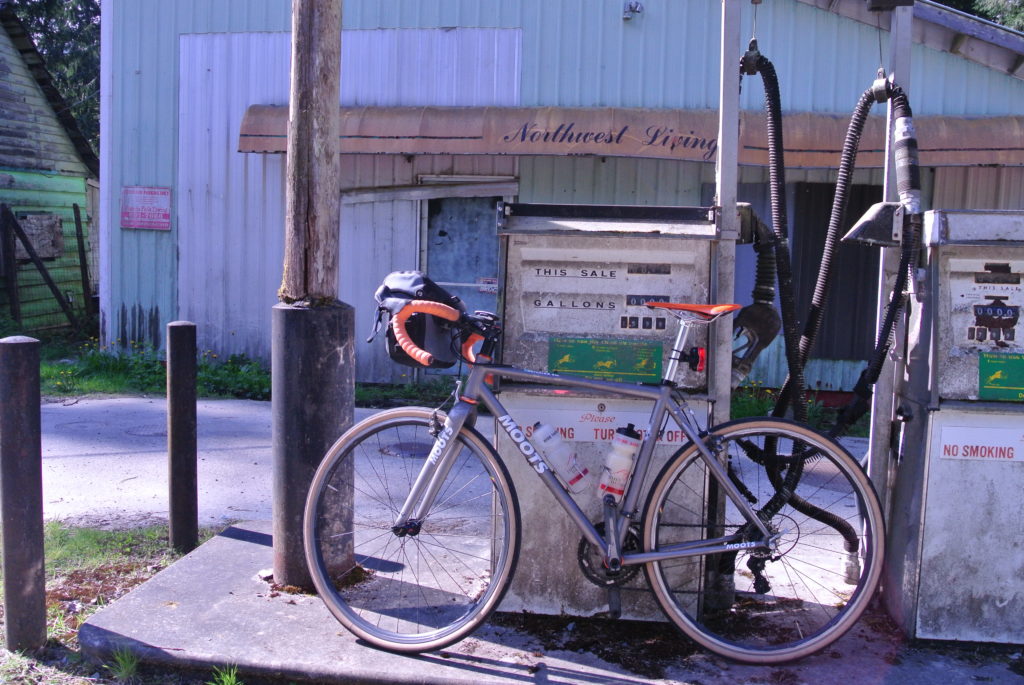 I pulled into Granite Falls at nine thirty and immediately found a nice public parking lot just off the main drag. As I was unloading my bike a pack of brightly clad, well-stocked cyclists rode by. They were followed a few minutes later by a second similar-looking pack. Perhaps this route is more popular than I had thought.
The sky was clear, but the temperature was chilly so I elected to wear a wool baselayer, my summer team jersey, arm warmers, bibs and the Freemont Knicker from Greenlite Heavy Industries (my company). Mountain biking shoes probably would have been the smart option – in case of some unexpected walking – but I chose my Specialized S-Works road shoes because quite simply they are the bomb.
The road on the first six miles out of Granite Falls was a bit busy with double-bottom dump trucks heading to some quarry, but once past the turn-off it was just the occasional Subaru loaded with day hikers. The road was smooth and the shoulder wide and relatively debris free. The 32mm tires inflated to 70psi smoothed out the chip seal and I quickly relaxed and settled into a sustainable pace. The road follows the Stillaguamish River and goes in and out of bright sunlight and dark shade. I was glad that I'd elected at the last minute to strap the tail light to my seat post. At ten miles in I stopped at a small grocery store in the town of Robe and grabbed half a cup of coffee.
Riding alone forces me to be a little more outgoing than I normally tend to be. Typically I leave the talking to strangers to my buddies and take a more backseat role, but when you're alone there is no backseat. I chatted up the owner and a few regulars asking about the condition of Hwy 530, from Darrington to Arlington. They agreed that it was an excellent bike road: smooth pavement wide shoulders. I was worried about this portion of the route, I hadn't driven 530 in over twenty years and I certainly didn't want to share a narrow highway with logging trucks and diesel dualies.
On on, up up past the ranger station at Verlot, past Silverton – which is little more than a sign – and on towards Big Four and Barlow Pass. After the Mt. Dickerman trailhead the already sparsely populated road became mine entirely. The grade was gradual – maybe two or three percent – and the road smooth.
Barlow Pass is also the trailhead for the popular hike to the ghost town of Monte Cristo and there was no shortage of cars in the lot. Where they all came from I'm not sure.
After a quick lunch of half a sandwich and a cookie I set off on a much deserved descent. The first fourteen miles past Barlow Pass are on what appears to be an unmaintained yet heavily used dirt road. The hard pack dirt was a minefield of ten inch deep potholes and consequently I was continually on the brakes dodging and weaving between mini craters. I hit pavement near the confluence of the White Chuck and Sauk rivers and from there it was tailwind assist smooth sailing into Darrington.
The temperature remained cool and I was none too hot in my arm warmers when I pulled into the Darrington Shell station. I wasn't alone: two walls of the cookie cutter gas station were lined with well-used touring bikes. When I walked into the station I saw the blue and white wool jersey of the Seattle International Randoneurs. I grabbed a can of Monster Energy (I can't help it I love that stuff) and some Alieve for my aching knees and returned to my bike.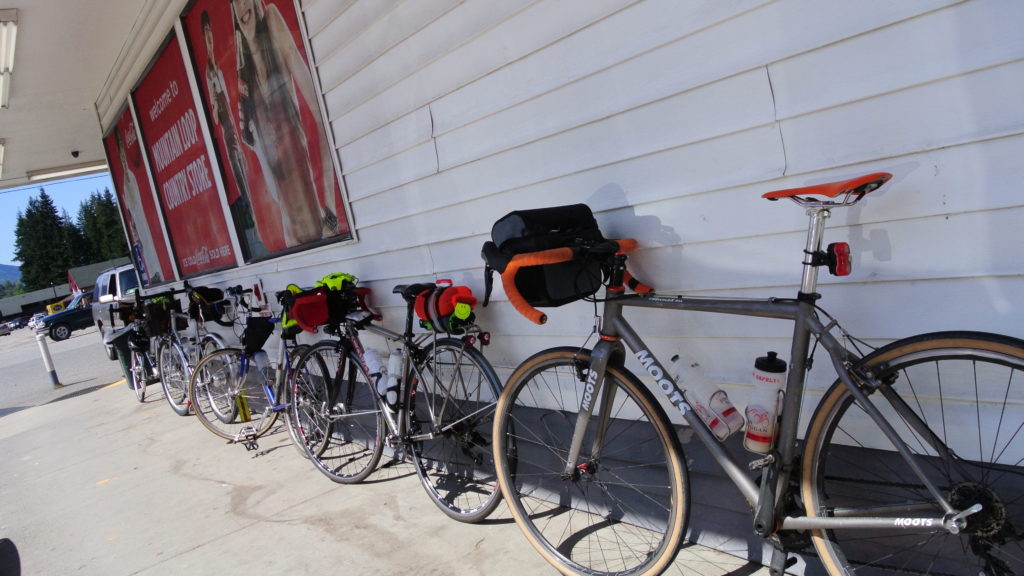 I recognized this crew as the riders I'd seen earlier that day in Granite Falls. "Where did you start?" I asked the lady who was strapping more stuff than should be legal onto her beautiful Seven bike.
"Redmond" she said.
Damn I thought. I later found out that these hard cores were in the middle of a 400km ride from Redmond to Baker Lake. Now that's burly.
From Darrington to Oso it was fifteen westward miles into an easterly headwind. The road was smooth, the shoulder wide, weather cool and clear and the grade slightly downhill, but I was working to maintain a good pace. Two miles shy of Oso I stopped to look at the devastation from the landslide which had happened just one year prior. What really amazed me was the length of the run-out zone. I was over five hundred yards away and one year ago where I was standing had been buried.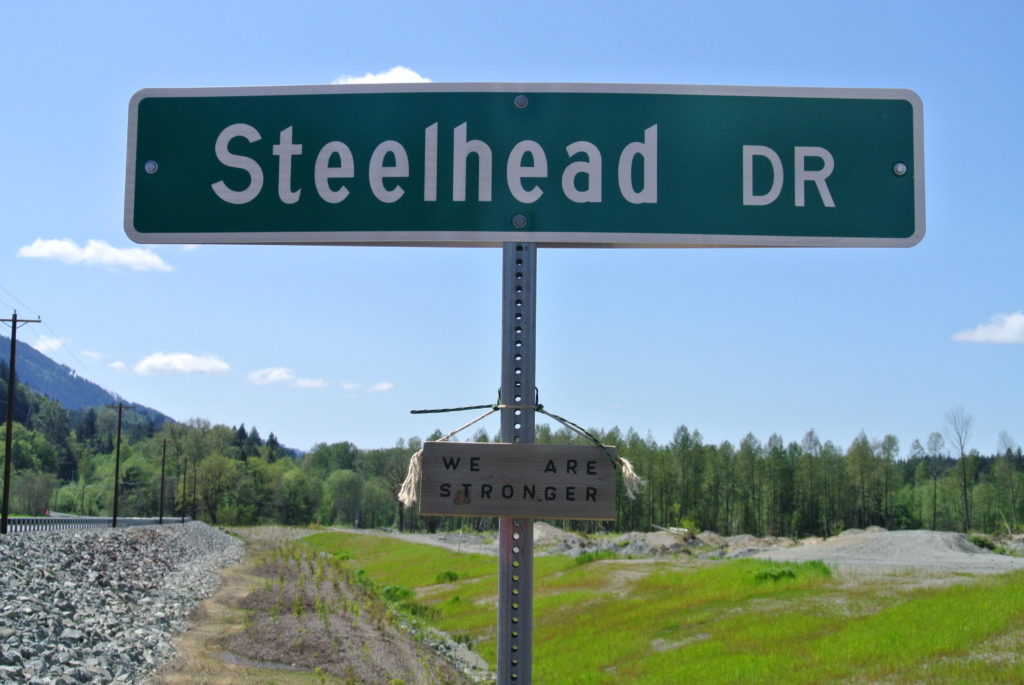 From Oso it was on to Arlington. The wind was really hitting me now and despite having eaten every thirty minutes I was starting to bonk. On the outskirts of Arlington I turned left onto Jordan road. Now I was in the home stretch: ten miles of rolling rural terrain along Jordan Creek. By the time I hit the dot on the map called Jordan I was post bonk and feeling great. I enjoyed the final few miles between myself and the car.
I got back to the car at around three o-clock, loaded up and headed to the convenience store for a bottle of Orange Crush.
I would highly recommend this ride. With exception of the Randoneurs I saw no other cyclists. All of the paved sections were smooth, traffic was light and the shoulders wide. Wider, softer tires were definitely appreciated on the dirt descent from Barlow Pass. Had I been riding skinny 23mm tires I probably would have opted to ride clockwise in order to climb rather than descend the dirt section. Best of all I had no close calls with impatient or idiotic drivers. Everyone who passed me gave me plenty of room, and there were zero blaring horns or screaming fools. A great day in the saddle.