Monday Dec 19th 2022
Palm Desert to Cottonwood Springs Campground Joshua Tree National Park
After eating all the breakfast food that we could find at Lori's house we finalized our packing and were posing for a departure shot at 10:30. This felt a bit late to be starting a bicycling adventure, but we only had fifty miles to cover and even averaging ten miles per hour we should arrive at Cottonwood Springs Campground with daylight to spare – or so we thought. We rode bike slash golf cart lanes the first eleven miles to Indio; the smooth flat roadway made the weight of my camping gear seem irrelevant
I had decided to forego the "traditional" bikepacking setup of handlebar bag and whale tail in favor of front paniers. My twenty-three-year-old Ortlieb paniers are still going strong with my only complaint being that they are too voluminous thus causing me to pack too much crap. The first rule of backpacking: you will fill the pack you have, seems to hold true for bikepacking as well. Reflecting back on the trip I'm going to say that the two paniers carried on a fork-mounted low boy rack was a great success; I have no complaints.
After Indio we cut the corner of Coachella and headed out into the desert along a garbage strewn ruler straight road; a gravel pit marked the end of the pavement. "Well it looks like the party's over," I said as we rolled onto bottomless sand. Mykenna, Isaac and I followed what kinda sorta looked like a road – on the map it is labeled Aqueduct Road – with conditions that varied from nearly unrideable to unrideable. Despite the twenty-five years between us, Mykenna and I are simpatico; we surf the same wavelength; everything is cool all the time. The third member of our party is Isaac, my twenty-one-year-old nephew from Iowa. This is Isaac's first bikepacking trip. Isaac is fit and capable, but this was trial by fire no doubt.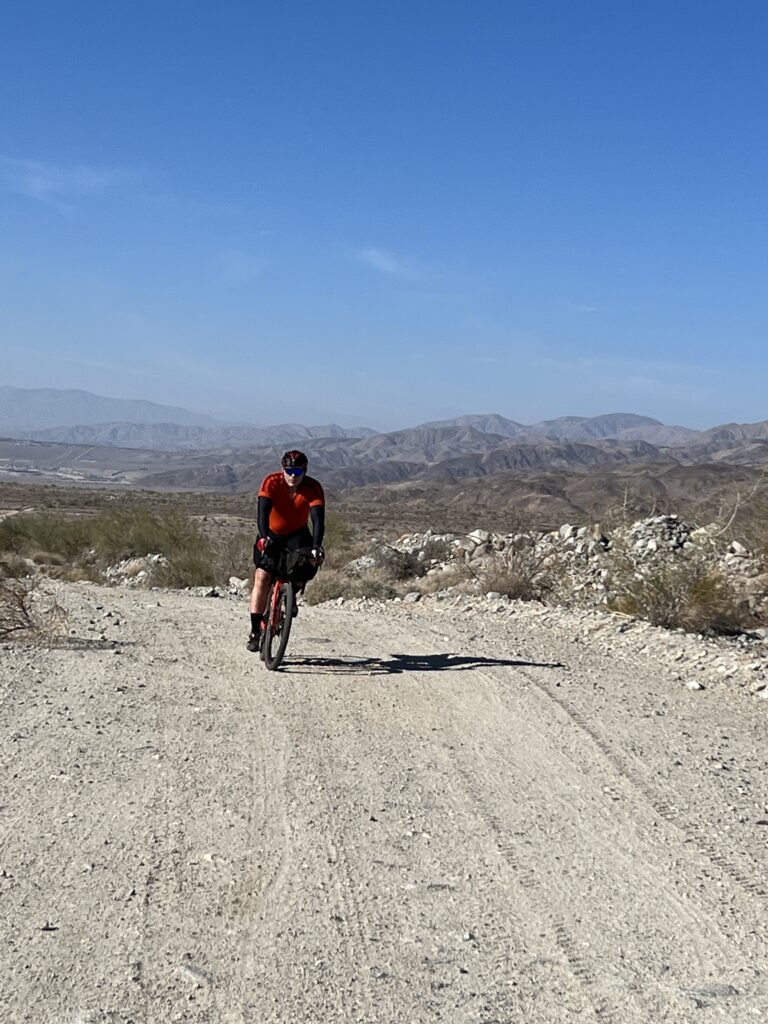 Three hours and fifteen miles later we came to a junction of three roads: Aqueduct Road (what we had ridden), Thermal Canyon Road heading north and an unidentified road heading east. A large sign informed us that road conditions up Thermal Canyon required a capable off-road vehicle. The sign was clearly aimed at drivers coming westward from Joshua Tree National Park, we, on the other hand, were riding east towards the National Park. My reasoning, therefore, was that the road between us and Joshua Tree is suitable for tourist driven minivans and that this sign was a warning for non-capable vehicles and drivers to turn around. In short, the road heading east should be better than the Thermal Canyon Road heading north. Either way we were looking at an after dark arrival at Cottonwood campground, so we opted for the fastest – easiest – option.
Our logic proved correct, and we made good time along the fairly okay gravel road leading to the Park entrance. Being two days shy of the solstice the sun had set by the time we posed for photos at the large Joshua Tree National Park sign. It's gets mighty dark in the desert. A twelve-hundred-foot, seven mile climb stood between us and Cottonwood Springs Campground. Luckily we couldn't see the road ahead and we simply ground out the miles.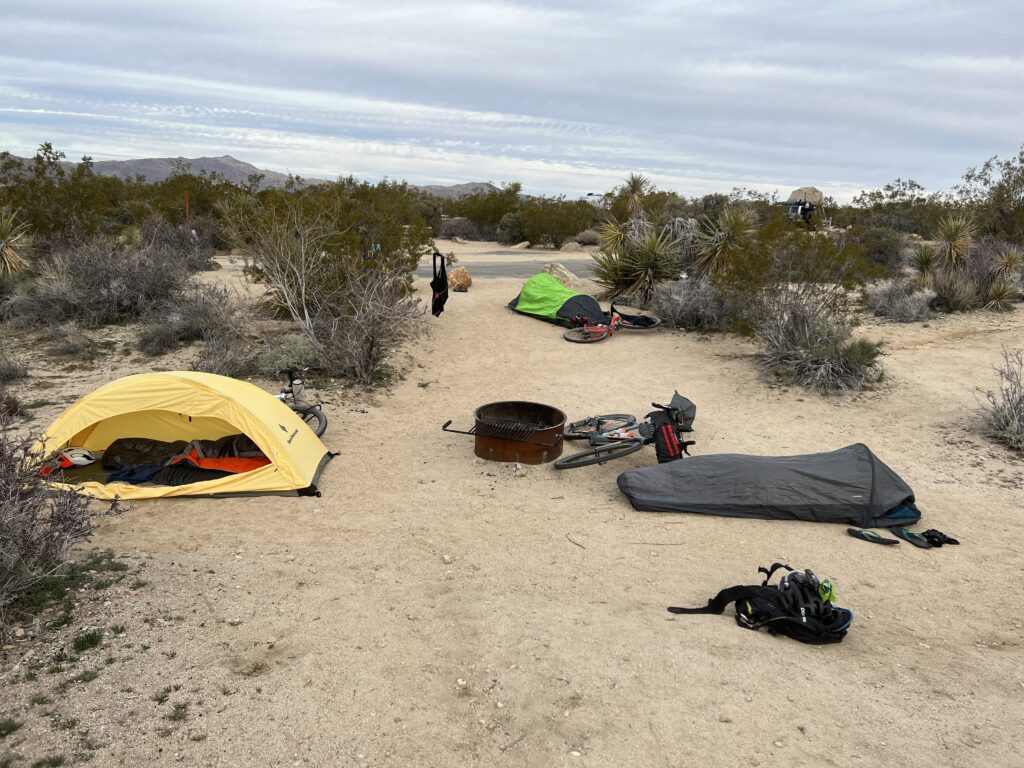 Cottonwood Springs is at three thousand feet, and despite this being sunny southern California it gets plenty cold up there: it was thirty-nine when we rolled into the closed visitor center and the temperature dropped below freezing at night. I'm not a big fan of freeze-dried meals but the quality seems to have improved over that past few years and my chicken chili was good enough. We were in our sleeping bags by eight o-clock.
Tuesday Dec 20th, 2022
Cottonwood Springs Campground Joshua Tree NP to Fountain of Youth Spa
We all crawled out of our sleeping bags well after sunrise and I immediately got the coffee going. I'm the only coffee drinker in our trio, so I had it all to myself. Coffee was followed by a breakfast of oatmeal and Pop Tarts and after several stops at the bathroom we were on the road. We bundled up for the seven-mile descent.
At the Park entrance we took off our leg warmers and insulated jackets and lit out towards the desert. After crossing the Highway 10 overpass we turned left onto a long-since abandoned asphalt road. Mykenna speculated that this is part of the road that predated the modern interstate; a reasonable assumption. Within a few miles we turned right and headed south on a Jeep trail. Within the first hundred feet we were all well aware that this was going to be a long day: this is a motor vehicle route and all those internal combustion engines and knobby tires had ground the sub straight into what someone later described as "sugar sand." Isaac and I were running 2.1" tires on 650B rims while Mykenna was expanding the possibilities of 44mm tires. My tires were adequate most of the time but given our slow pace and flat terrain I think a fat bike wouldn't be out of the question for these trails.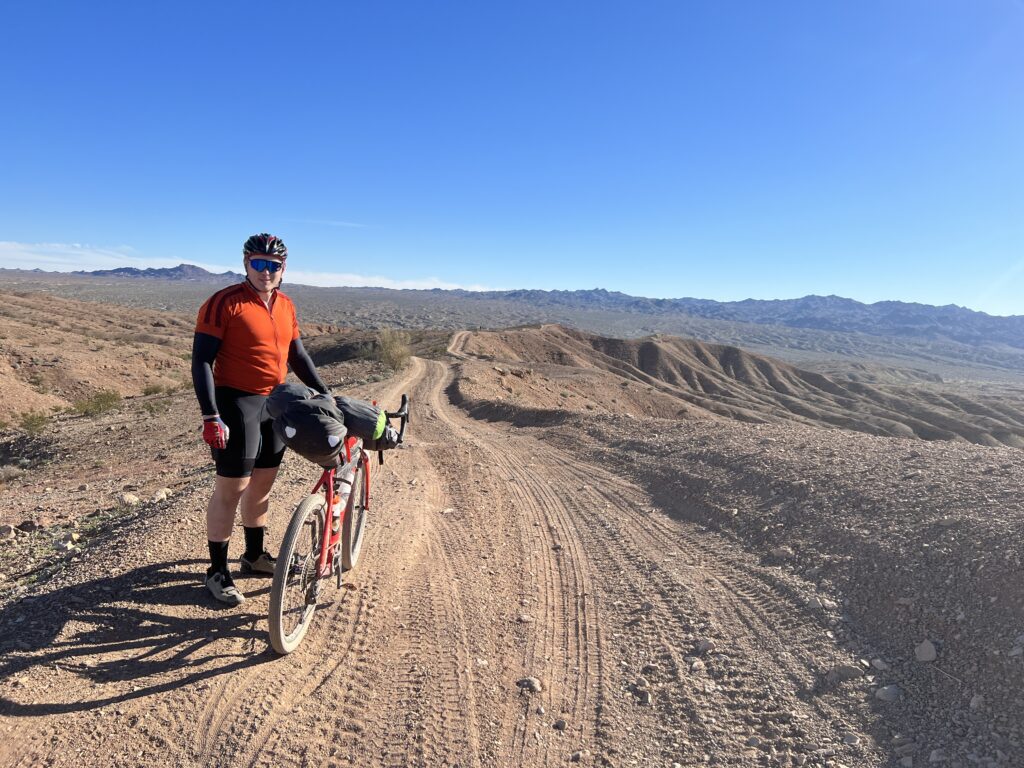 After a couple of hours of 5 mph struggle, we hit a stunning section of trail that follows a slightly descending ridgeline. Despite the sugar sand this was some grade A overland cycling. The ridge eventually put us on Bradshaw Road. I suppose we were briefly on something that might be called a road but that quickly faded into a wide wash. Mykenna and I went hiking to find a "road" and we eventually discovered an abandoned rail right of way. Riding the baseball-sized ballast wasn't ideal but it was a welcome reprieve from sand. Eventually we figured out that Bradshaw Road is nothing more than a wide flat wash used by ATV riders and overlanders. I mentioned to Mykenna that my favorite player from the Terry Bradshaw era Steelers was Franco Harris, a tough, hardworking no-nonsense guy. I hadn't mentioned the name Franco Harris in probably forty years, but the day I did think of him turned out to be the day he died. RIP Franco.
After passing some rusting desert relics we hit the Coachella Canal Road. At first the road was no improvement over Bradshaw Road, but soon we hit roadway frequented by cars and the conditions improved dramatically. Now we were cruising on "normal" gravel. As we neared the Fountain of Youth Spa Mykenna blasted ahead to catch the convenience store before they closed for the evening while Isaac and I cruised past a seemingly endless string of fifth wheels and mobile homes. We made it to the gate with ten minutes to spare, and despite having reservations the lady in the guard shack seemed completely flummoxed by a trio of cyclists. "We've never had cyclists before," she repeated several times. Luckily she and I were from approximately the same generation and after a bit of sweet talking she finally came around to see that we were legit and, for the most part, harmless.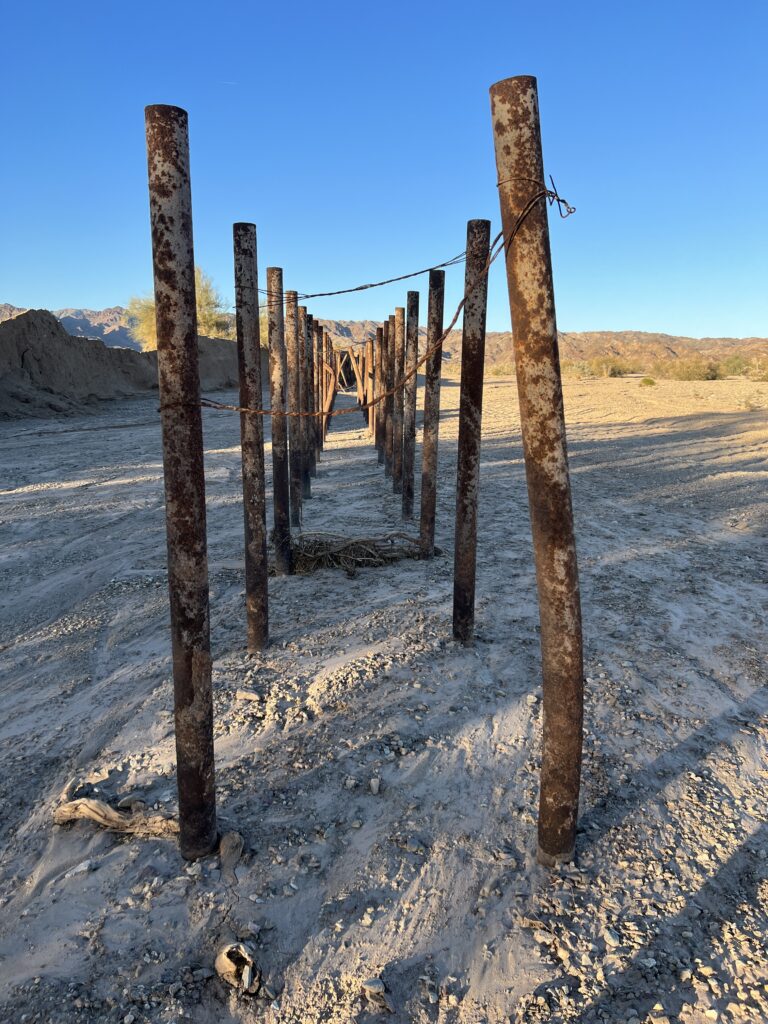 Our designated camping spot was basically a chalked off section of gravel parking lot, but we did have a nice bathroom close by with a light and a curb for sitting and making dinner. As we were cooking a fellow came by with his wife and informed us that tonight was TNT.
"What's TNT?" Mykenna asked.
"Tuesday Night Talent" he responded "folks get up tell jokes, dance, sing songs, stuff like that. It's right there in the community center." He said pointing to a large beige building
"We'll be there." I said. And we were.
My favorite act was a lady, probably in her mid-seventies, dressed in red velour who sang Santa Baby to a pillow under the shirt Santa who had earlier been manning the door asking entrants if they had been naughty or nice. The singer ended up sitting next to me and as she passed Mykenna said "good job."
"Well I had to tone it down a bit," she responded, "there are a lot of old people here, you know Christian types."
a broken-down old guy sitting one row in front turned and said "that's right."
"I hear you Wayne," she said putting a hand on his shoulder. She then leaned over to me and whispered, "usually I do a pole dance."
I think the guy who sang Grandma Got Run Over by a Reindeer didn't realize until halfway through that the song is about grandma getting killed and grandpa happily drinking beer and watching the game. The final act was a rendition of Walking in Women's Underwear sung to the tune of Walking in a Winter Wonderland. The evening closed with a sing-along. You never know what you'll see unless you look.
Now that we were below sea level the air temperature had risen at least ten degrees and the sleeping was comfortable.
Wednesday Dec 21, 2022
Fountain of Youth Spa to The Salton Sea
We lounged at the tents until the walk-up window café opened at eight. The breakfast burrito was good enough – better than two packets of Quaker Instant Oats. After breakfast we showered and stocked up at the small convenience store before returning to the dirt canal road leading us like a dusty yellow brick road to Slab City.
Located on an abandoned Marine base, Slab City is simply a large homeless encampment. The place has been somewhat romanticized, but I didn't see anything that spoke to me of freedom, peace, love or sustainability, what I did see was scattered garbage, abandoned or semi-abandoned automobiles, burned piles of something or other and aggressive dogs. After passing through Slab city we rolled up to Salvation Mountain, now this place was worth a stop.
The history of Salvation Mountain is well-documented, so I won't go into it here, suffice it to say that I found it interesting and interesting is what we were after.
A few miles past Salvation Mountain is the town on Niland, California. Despite is brand new police station and a better than average high school, Niland appears to have seen better days. The Buckshot diner had been recommended to us by a couple at the Fountain of Youth, but we were between breakfast and lunch, so we stocked up on dinner food at the sparse grocery store and continued down the road.
Mykenna pulled us all the way down the highway to the Ski Inn at Bombay Beach. Hugging the once glamorous and crowded shoreline of the Salton Sea, Bombay Beach is today little more than a ghost town. The Salton Sea was created in 1905 when an irrigation dam broke and flooded nearly one thousand square miles. During the 1950's the "accidental" lake was one of California's most popular vacation areas. The lake has no outflow and the only water source is polluted irrigation run-off, these two factors resulted in a massive fish die-off and a receding contaminated shoreline. The party was over.
The Ski Inn is a faded reminder of a bygone glory. The dusky interior is wallpapered with dollar bills and Isaac had a tough time finding enough open space to tape up his contribution to the collection. Despite the faded interior the service was friendly and the food excellent.
From the Ski Inn we had an easy flat ride to our campsite at one of the many nearby State Parks. With the exception of a single fifth wheel, we had the park to ourselves. I was somewhat surprised at the high vacancy rate as the cooler winter months seem to be the time to visit this area. Temperatures near the Salton Sea routinely surpass one hundred degrees during the summer.
Thursday December 22, 2022
Salton Sea to Palm Desert
After a comfortable and quiet night, we began our relatively easy forty-two-mile ride back to Palm Desert. We were now in farm country with oranges and date palms being the crops of choice. We passed through Thermal and Coachella before finally finding a Starbucks in Indio. We were in no hurry and it was nice to sit outside, drink some coffee and enjoy the warm sun.
We had only scratched the surface on bikepacking routes in the Palm Springs area. Next year I'd like to come back and head west towards the ocean. Crossing the San Jacinto Mountains and camping along the Pacific Coast seems like a worthy adventure.