On Monday June 7th my buddy Dan and I drove over to Cle Elum to preview the new GRiT L course. The GRiT is a new three course event (GRiT, GRiT L, and GRiT XL) scheduled for July 10, 2022. Dan and I decided to ride the forty-seven-mile GRiT L. Forty-seven miles might not sound like an epic day, but with nearly six thousand feet of steep climbing and rough descents we were going to have our work cut out for us.
We rolled out of the expansive Dru Bru parking lot into a stiff easterly headwind. After a mile and a half on pavement we turned onto the first gravel climb of the day. I refer to this climb as Granny Gear hill, it's an ascent route for mountain bikers gunning for Rat Pack. This is a textbook mountain bike ascent: steep, constant and in your face. I was riding what I call my monster gravel rig: a 2011 Yeti ARC retrofitted with drop bars a rigid fork and 650B wheels. My tires were 2.1" Teravail Rutlands; beefy for sure.
At the top of Granny Gear Hill, we took a right and began the long descent towards the West Fork of the Teanaway River. The descent is steep, rutted and potentially sandy. I say "potentially" because Dan and I were riding the day after a large thunderstorm and the old road cut was packed like beach sand. After a short climb through the forest we hit a decommissioned road and coasted all the way into the Illahee Campground located at the end of the paved section of the West Fork Road.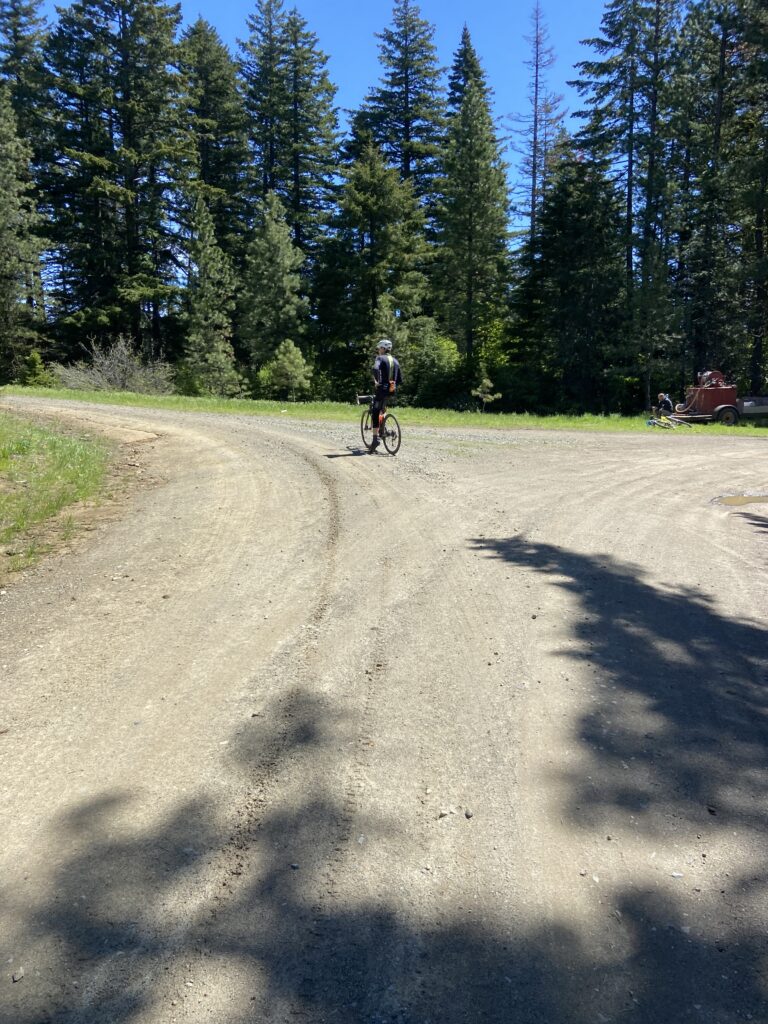 The next ten miles of the course are fairly cruiser on a potholed dirt/gravel road leading to the Middle Fork Road (careful there might be a few cars/trucks here) and the Indian Camp trailhead. This marks the beginning of the second big climb. Three weeks ago, Erik, Chris and I had to push our bikes uphill through wet concrete mud, but today Dan and I were able to ride the entire climb. It's steep, and rutted, but ridable. This will be a tough section on event day (July 10) as I predict it will be twenty or thirty degrees warmer. On this day the skies were blue, but the temperature never crested sixty degrees.
The climb crests at what appears to be a fairly recent forest fire. The next five miles – a steady descent to the Teanaway River Road – is rough, there's no sugar coating it. We'll call this the Wood Boss Descent. The descent follows a long-ago abandoned roadbed with as few as two and possibly as many as five hike-a-bike sections. This is a beautiful section, especially the area near Camp Lake, which is more of a grassy meadow than a lake. As we rode past the waving grass, a mule deer looked up from her grazing, gave us a good look and then gently bound in the direction of the surrounding forest.
The Wood Boss Descent ends at the Teanaway River Road where we rode five thankfully paved miles leading to a right turn at the West Fork Road. After all of the hard earned miles it was pleasant to hit some smooth tarmac and put some distance behind us. The West Fork Road returned us to the Ilahee Campgound where we stopped to talk dog love with a vet and his furry buddy Nelson.
Ok here we go. No way to get around it, I found the climb of Sandy hill (the same hill we descended on the outbound leg) very difficult. I was glad to have my mountain bike gearing, which gave me a big advantage over Dan who was riding a more traditional gravel/road set-up. Dan is the much stronger climber, but I stuck with him all the way to the top.
The descent of Granny Gear Hill is fast and smooth, and once again, my fatter tires gave me a bit of an advantage. This is a dangerous section of the course as it's tempting to really open it up, but there are some hairpin turns and plenty of opportunities to go down. It is definitely best to ride within one's abilities here. A descent of Rat Pack is also an option, but that would probably be considerably slower than the road.
Despite the moderate mileage Dan and I both returned to the car feeling like we'd had a full day.  Six thousand feet, for me, constitutes a big day.  This is definitely a mountain bike leaning course.  The course reminded me of what we used to ride on our, Ritcheys, Stumpjumpers and Trek 990s back in the late eighties and early nineties.  The challenge of this course is not in its length but in its climbing and technical difficulty.  While putting this course together we've come to realize that there isn't an easy way through the Teanaway, but what it takes in effort it gives back double in natural beauty.
Route map can be found here: GRiT L – A bike ride in Cle Elum, WA (ridewithgps.com)