In the 4×4 community there is exists a subset known as Overlanders. Overlanding is more than gravel road driving and less than rock crawling. Most overlanding vehicles are modified – improved suspension, wench, skid plates – but they are not so modified that they couldn't, or wouldn't, be used as a daily driver. With route help from Erik O and Martin C, I think I've discovered the bicycling equivalent to overlanding – more than gravel riding, less than mountain biking. I wonder if I need to come up with a new name for this type of endeavor. Probably not, there are enough distinctions already.
The Eastern Washington town of Roslyn is probably best known as the set for the TV show Northern Exposure. It seems as though the town has moved on from its brief brush with fame and embraced its easy access and natural beauty by promoting outdoor recreation.
As extraction industries wain here in the West I very much support moving our rural natural beauty rich, but industry challenged communities away from mining and logging and towards outdoor recreation. Washington state has two success stories that demonstrate the potential of this transformation: Leavenworth and Winthrop. The preservation of wild spaces, the continuation of thriving rural communities – to me it's a win-win. The biggest win of all, however, would be the bringing together of rural and urban communities. Ignorance sows hatred.
Okay so enough soapboxing and on with the route describing.
I could tell that it was going to be a warm day when we rolled out of Pioneer Park in Roslyn. We immediately took a fast pace down the Coal Mine trail towards Cle Elum. It's fair to say that I'm the weakest rider of this bunch and I was getting concerned as my Garmin was updating firmware (something it would do all day) and thus I didn't have a route map. My companions are all sturdy road racers and when we hit the pavement the race was on. I was focused on holding the wheel in front of me as we raced east on Red Bridge Road and then north on the Teanaway Road. Thankfully at around mile fifteen Martin turned the volume down from eleven, to maybe a nine.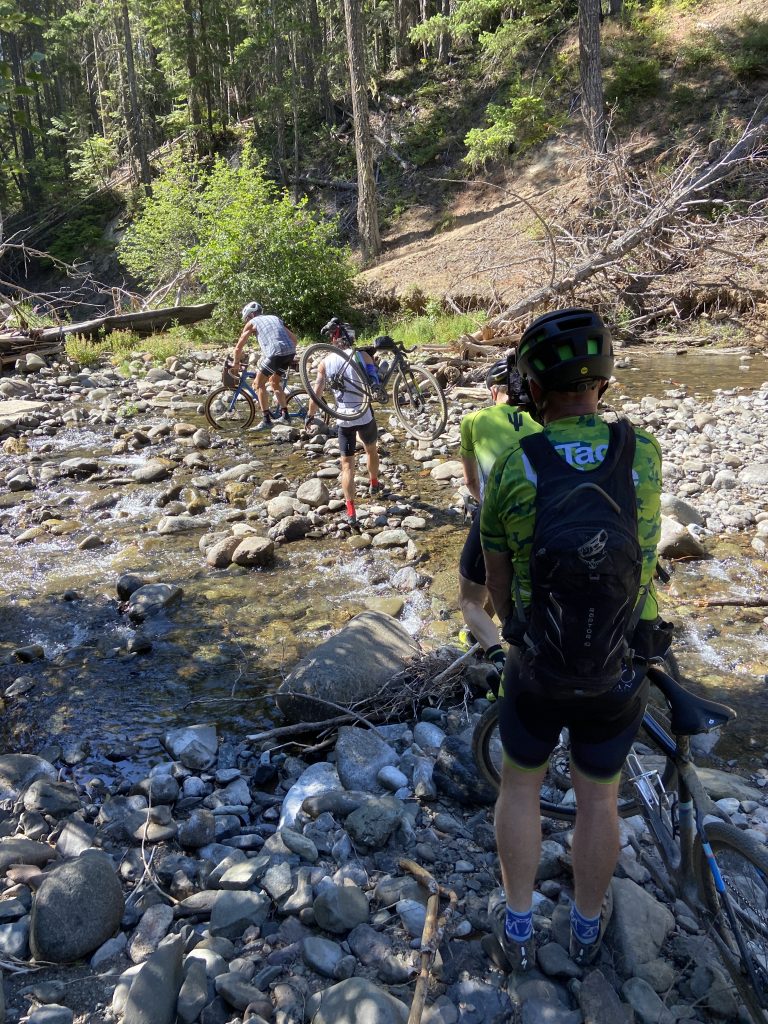 After turning left onto the Middle Fork Road we finally hit the gravel – much to my relief. Gravel, even fast hardpack, seems to cool a hot pace. We soon crossed the Middle Fork of the Teanaway (no bridge here) and then carried our bikes up a steep sandy incline. After a jaunt through the woods we hit an old road. From here the riding tended to be a bit more challenging than your standard gravel ride. The road was often coated with six to eight inches of deep dusty sand and on numerous occasions we lost the road entirely and continued on legit single-track mountain bike trails. Despite running what are essentially wide road tires I had no problems negotiating the sand and single-track. There were a couple of steep downhills that I chose to walk – better to take an extra minute to walk than to end up face-first in the bushes – you don't go down easy on this kind of terrain.
The reward for our hard work was riding along a large, slick rock-like outcropping. The views were breathtaking, the sun warm, so we took the opportunity to relax and shoot some photos. The descent from the slick rock was a steep narrow ditch through slide alder. After watching Randy and Alex go over the handlebars, I opted to walk this short section.
After a quick ride through the valley and a water stop – thanks to Martin's water filter – we started up the final climb of the day. Steep sandy road gave way to single-track, then more steep road, then more single-track and finally when I thought it was over – it wasn't. As we neared the top we were rewarded with a cool breeze. I don't know where that wind was coming from as the temperature was well into the nineties.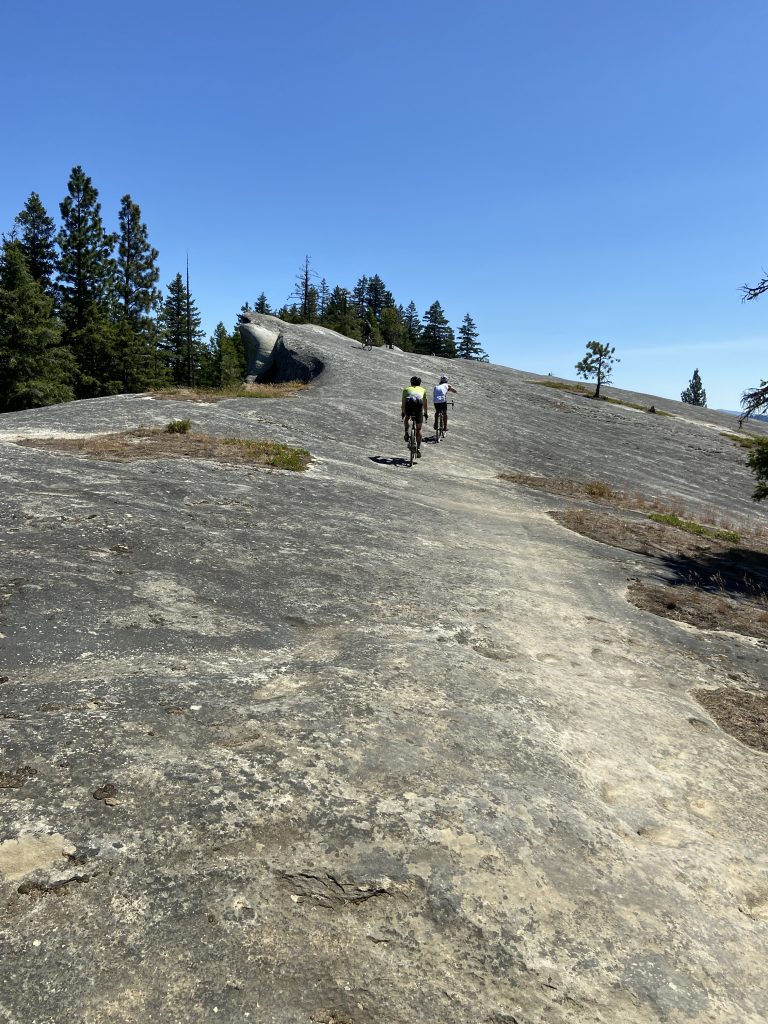 A long gravel descent put us back onto the Coal Mine trail.  No wonder we were going so fast on the way out: it's all uphill back to Roslyn.  At the city limit Erik and I turned off and headed for the small grocery store where he emerged with Coke and Rainier.  A good way to end a good day.
Route details can be found here: https://www.strava.com/activities/3797623913