Over the weekend I joined my "up for anything" friend Mykenna on a 300Km brevet ride with the Seattle International Randonneurs. A brevet is an organized ride with a set start time and a set route. For the 300Km distance the rider is allotted twenty hours to complete the course. An interesting aspect of riding brevets with the Randonneurs is that every rider is issued a brevet card that they must fill out as they ride the course (basically you arrive at a prescribed checkpoint and answer a question – "at mile 49.1 what does the green sign say"). A completed brevet card verifies that the rider did indeed follow the course.
The brevet began in the Olympia suburb of Lacey at six in the morning. Mykenna and I got an early start from Seattle, and made it to the start with ten minutes to spare. We were the last riders to arrive; about two dozen super prepared cyclists were either talking in small groups or circling the parking lot aboard an eclectic collection of highly customized purpose-built bicycles. I can make two generalizations about rando riders: (1) they are super welcoming to newcomers and (2) they ride fantastic, interesting bicycles.
I rolled over to the pre-ride meeting where the riders all seemed relaxed and cordial. Everyone seemed to know each other. I recognized Robert and said hello as I rolled by to check in. With about a minute to go before departure I rolled back to the car to see Mykenna struggling with one of his bike bags; food and gear littered the ground beneath his bike and he seemed a little flustered. This wasn't going to be a race, so I gave my friend some distance and let him sort it out.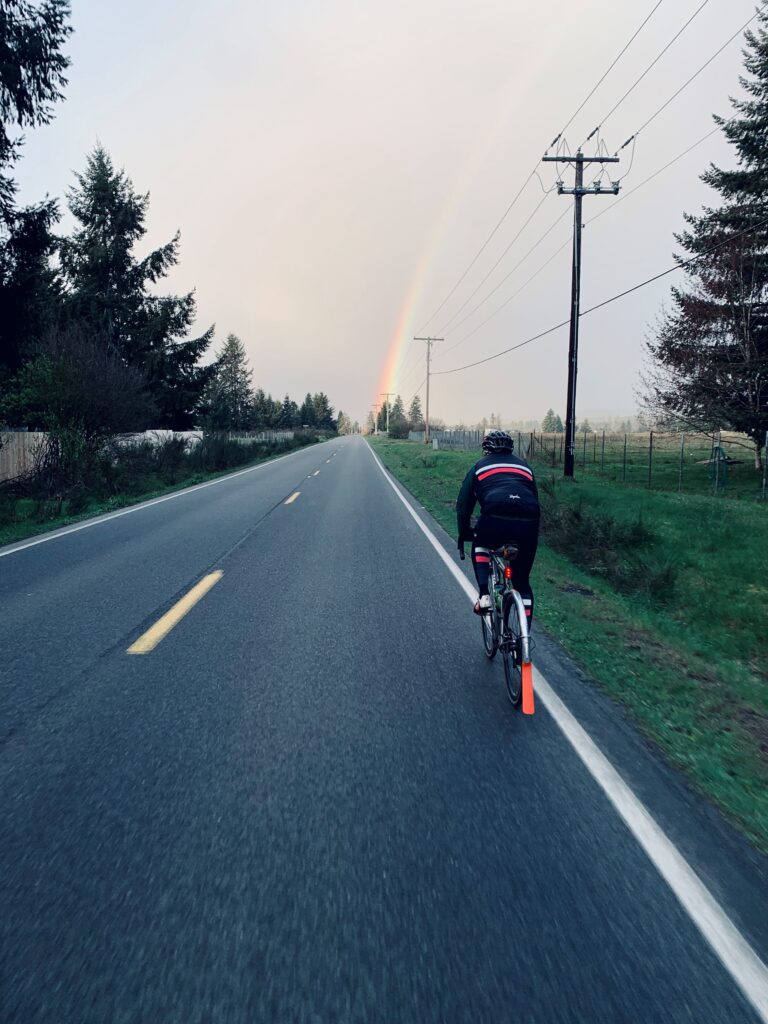 We started about ten minutes late, but I figured that we'd catch up with all but the fastest riders in short order. That was wrong thinking. At thirty miles in we caught up with Andy, Susan, Jeff, Gary and Daniel climbing Bordeaux Hill. We exited Capitol Forrest as a foursome: me, Mykenna, Gary and Daniel. We were all very compatible and knocked out the first 100Km riding through a series of rain squalls.
Every April I begin to get a bit tired of the damp, cold Pacific Northwest weather, and the prospect of spending another ten to twelve hours on my bike in the cold and wet wasn't putting me in a positive mental space. As we rolled into the Centralia Safeway the weather was looking better, maybe, I thought, the next hundred miles won't be so bad. Gary gave us a time limit of fifteen minutes at the store, which we overshot, and as we were snarfing down our bagels, chips, and chicken tenders the sky opened up. We left Centralia in a downpour.
A big climb out of town warmed us up and soon we were back to dappled sunshine. A series of gentle rollers took us to the manned checkpoint somewhere near mile one hundred. The guys at the checkpoint were hanging out underneath an EZUp tent and were super supportive and happy to see us. I had a Fanta Orange and half a ham sandwich (I stuffed the second half into the cargo pocket of my bibs for later). As we were about to leave a massive hailstorm blew through. We could see blue sky to the west, so we waited for a few minutes until it was over, we dodged a bullet on that one.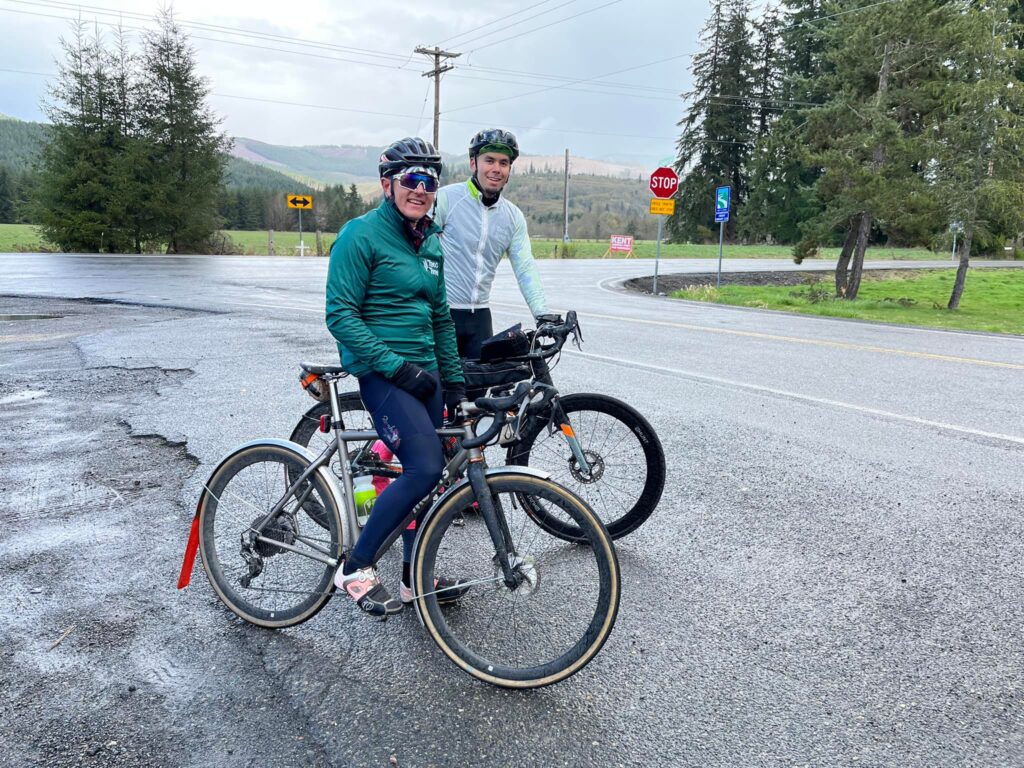 Now came the headwind. I've ridden against the wind many times, but this was next level. Mykenna and I struggled to maintain double digit speeds. The wind would be in our faces for the next forty miles, but at least it wasn't raining, or sleeting, or hailing, or snowing. Mykenna and I rode two abreast on the nearly deserted road figuring if one suffers we both suffer. Finally, we made it to Winlock, home of the World's largest egg, and turned north. Instead of a headwind we now had a crosswind, which was manageable.
For the six people who actually read this let me give you a little secret: Fritos Corn Chips. About six miles shy of Winlock I bought a bag of Fritos and a bottle of Coke and that junk food quickly did its magic. I was feeling good and the miles were ticking off. Mykenna and I rode strong through Centralia, on up to Bucoda and then onto to the home stretch – the Chehalis Western Trail. I have a bad habit of not eating and drinking enough as I near the finish; thinking I'll come in on fumes. As darkness descended on us and as the rain went from drizzle to downpour I realized that I was bonking – we were eight miles from the finish. Fortunately we were on a trail and the course ahead was self-explanatory, so I just put my head down and tried to keep a steady tempo.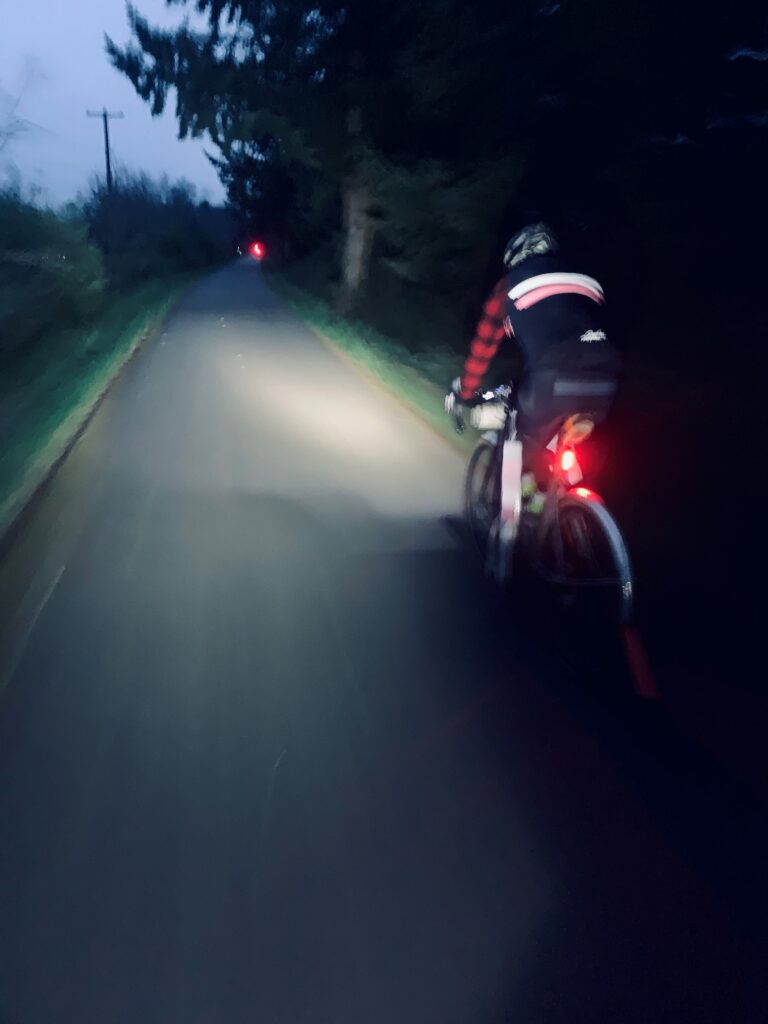 The final checkpoint was at a bar where we were invited in for beers. Don't get me wrong I like beer, but after fifteen hours in the saddle all I wanted to do was get that diaper off, drive home, take a shower and go to bed. So that is what we did.
The jury is out as to whether or not I actually enjoy riding my bike for fifteen plus hours. I never really became exhausted or fell apart, basically I simply got tired of riding my bike. On the flip side I found the rando riders to be kind, generous and welcoming and I look forward to riding with them again.