A number of people have asked about my bike slash gear set-up for the Cross Washington Mountain Bike Race, so I figured that I'd try to write it all down, starting today with the bike itself.
I rode my trusty Ibis Hakka MX fitted with Shimano GRX components (42 ring up front and an 11-46 in the rear), a Redshift Shockstop stem mounted up with Ritchey Comp Venturemax 44mm bars.  I purchased a set of Profile Designs Sonic Ergo aerobars especially for this trip.  My saddle is the same seat that I use on most of my bikes, a Brooks Cambium C17.  The Hakka only fits two water bottles, so I brought two large bottles fitted into Arundel Sport cages (I also packed a 1L Katadyn BeFree Collapsible Water Filter Bottle for the arid sections which when full I carried in my jersey pocket).  I didn't use either a suspension or dropper seat post, but instead rode with a standard Thomson Elite – nothing fancy there. My pedals are Crank Brothers Eggbeaters.
I opted for 650B wheels to accommodate wider tires. The spec sheet on the Hakka says that the rear triangle will accommodate 2.1"/650B tires, so that's what I bought. The 2.1" tires seemed super slow and sluggish, so I switched them out for Panaracer 1.9" Gravel King SKs. I think that the Gravel Kings did great – no flats, never even needed to reinflate tires – but in hindsight I should have gone with the 2.1" in the back and a 2.3" in the front. Maximum rubber would have been appreciated in both the rough stuff and the loose stuff, which, after Snoqualmie Pass, is about sixty percent of the course.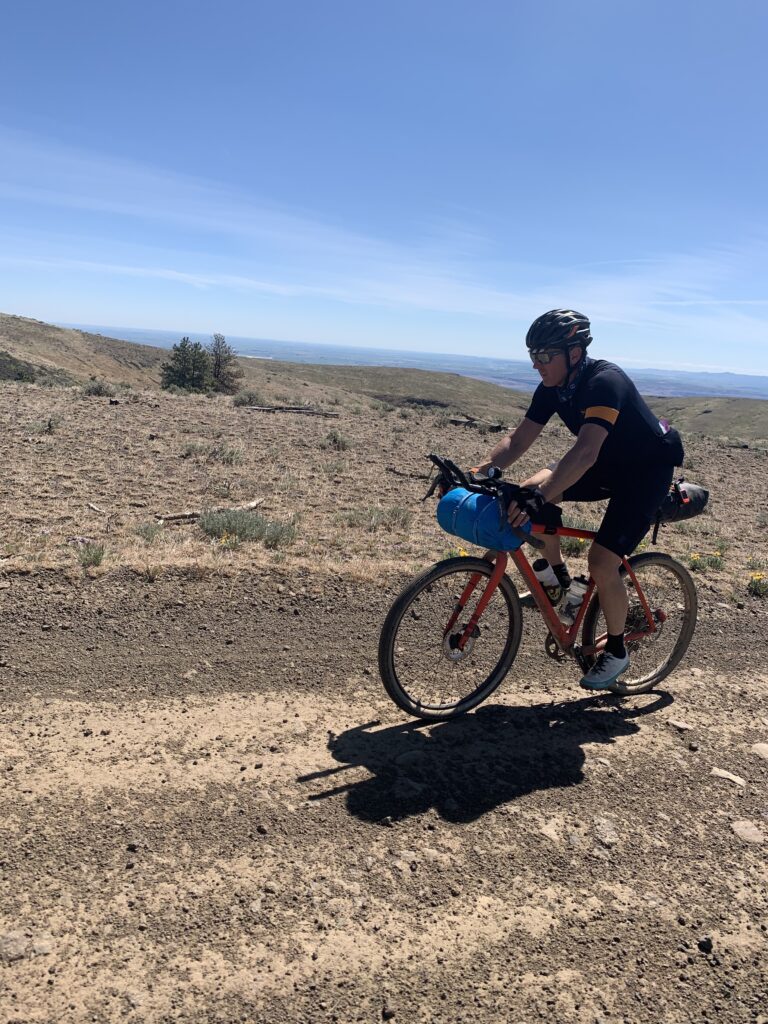 My wheelset was built up especially for the route by Kelsey and Joey at Cascadia Wheel in Tacoma. I used their branded rims, spokes and rear hub. Up front I tried something new – a SON dyno hub. Between the tracker, the phone, the bike computer and your lighting system the XWA requires quite a bit of electrical power. I don't seem to have a very good relationship with rechargeable batteries, especially in headlights, and so I went with a dyno hub.
Rigging up the dyno thing was the opposite of plug and play, and I owe a big thanks to Hahn Rossman for pointing me in the right direction and Clemens Szyperski PhD for researching compatibility and soldering my connections. I bought a Schmidt Edelux LED II Front Headlight with plans to mount in on my bars, but the cable didn't reach. The Edelux appears to be very popular with Randonneur riders who typically mount it either on a front rack or on the fork crown. I wasn't using a front rack and a crown mount wouldn't work as it would interfere with my handlebar bag. I bought an extension cable from Rene Herse to solve this problem.
My grand plan was to use the dyno during the daytime riding to charge either a power bank or, if that was full, charge my computer directly. I figured at night I would plug my appliances into the bank, and then recharge the bank the following day (the SON hub does cause a bit of resistance so I unplugged all devices at the base of any major climb). My power bank, like most, utilizes a USB connection, so how to wire a USB to the dyno. Thankfully Hahn pointed me in the right direction with a Sinewave Cycles Revolution Dynamo Powered USB charger. Clemens made sure that the light and the charger were compatible, and then soldered it all together. It all worked perfectly.
My electrical components were stored in a Revelate Mag Tank top tube bag. When I ride, my knees come within a few millimeters of the top tube and thus frame and tube bags tend to graze my knees on every pedal stroke. Not a big deal on short day trips but a killer on long multi-day endeavors. So long as I didn't overstuff the Mag Tank it only occasionally grazed my knees, but any slippage of that bag left or right resulted in interference, so it was a constant battle of micro-adjustments.
In hindsight I think I had a good set-up and would wager that I had one of the lightest rigs in the race. Perhaps a suspension seat post would have been nice as my daily distance limiter was a sore rear end. I did start the race with the tires aired up a bit heavy – 45psi – maybe lower pressures would have reduced butt bruising. The Hakka MX is a super fast bike and I wonder if maybe it's a bit stiff for these long off-road trips. I wonder if a Ti frame might have been easier on my fifty-five-year-old body. I'm also thinking that a mountain bike front suspension would have been welcome on this course. I think that the comfort combined with the ability to make faster descents would have more than compensated for the added weight. A lot of stuff to think about.