I'm not gonna lie, a mattress and a shower are good and welcome things. With a good night's sleep in the can, Mykenna and I opened up the Fred Meyer at six where we stuffed our pockets with as much calorie dense food as we could carry. Our next resupply would be Ephrata, a tough seventy miles away.
The wind had moderated. We rolled easy ride down the Columbia and were on the Rock Island Grade before we either knew or expected it. Luckly the Wenatchee Fred Myer carried my personal version of rocket fuel – beet root juice – and I hit the climb primed and ready.
Mykenna and I each found our own pace as we took to cruising up the seemingly eternal hill. I've ridden worse. Shiggy had described the RIG as a "grind" and he wasn't wrong, but as far as climbs go it was, as the kids say, aight. The grade is moderate, the road surface champagne gravel, the views spectacular and on this day the weather cool and overcast.
The climb up the RIG was followed by some well-earned descents and then some farm road cruising. The wind was getting worrisome. Fortunately, the temperature was in the mid-sixties; we were missing the Eastern Washington heat. Dropping down into the Douglas Creek Gorge we passed a well-hidden Josh Kato who snapped a couple of really cool photos of us rolling by. I'm still blown away by the fact that people actually cared about us and our crazy tour.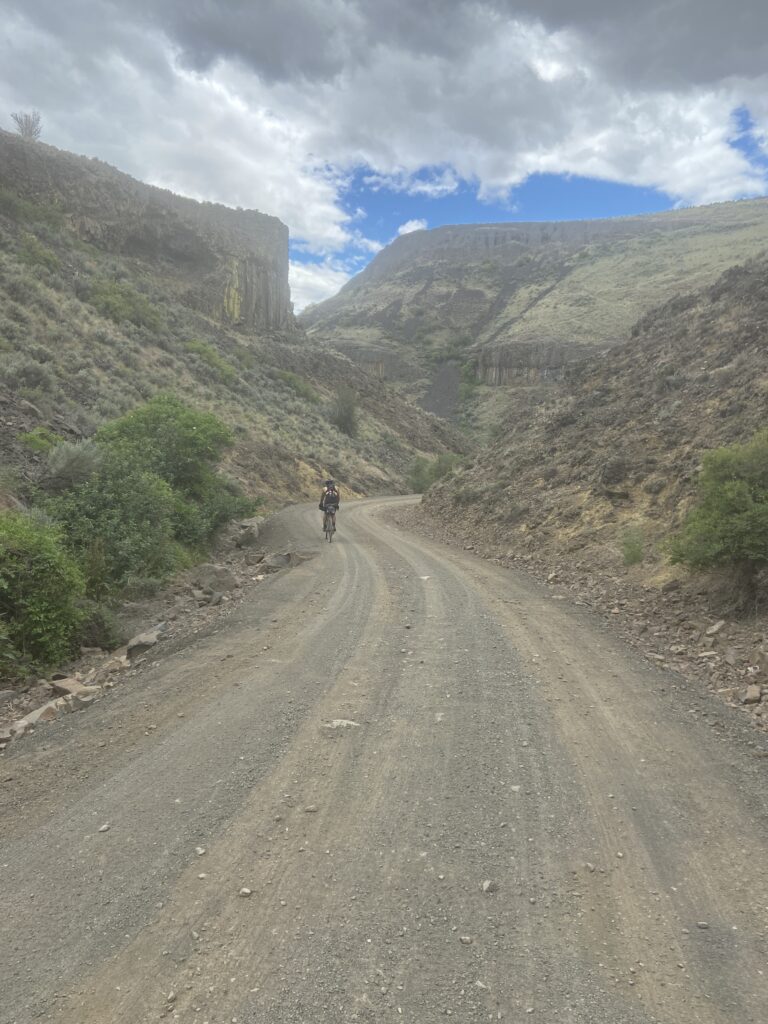 At the first creek crossing we took off our shoes and carried our bikes. Same for the second. At the third Mykenna simply dismounted and walked across still wearing shoes and socks. "Screw it" he said as he waded in. I followed suit, and the next two water crossings were taken shoed.
By the time we had climbed out of the Gorge the wind speed had increased to what I would consider severe. The gale was blowing out of the west resulting in front wheel knocking cross wind as we headed south towards Ephrata. Troy had really found some remote rugged roads and at the bottom of a moderate descent I hit ten inches of dirt powder and cratered into the weeds. A little elbow skin lost but no bike damage, so all was good.
One more cool remote gorge, where we were met by a couple of dot watchers (so cool), and then it was a descent followed by a ride into Ephrata. The final two miles into town were with a full tailwind and I clocked thirty-four miles without peddling a stroke.
We rolled into Ephrata under a wind advisory, which in this windy portion of the State is saying something. Escape from Ephrata under these conditions would be futile, so we holed up in a Pita Pit where we filled up on sandwiches and Coke. The wind was predicted to abate by six, so at five we rode to the Safeway to resupply. On the way we noticed four bikepacking rigs outside of a Mexican restaurant, so of course we pulled over and went inside. The dudes from Big Sky had a table full of empty plates and beer bottles. If I had drank even half of a watered down PBR they'd be taking me out of there on a dolly.
We all six met up again at the Safeway where we bought supplies and did a bit of bike fiddling. We followed the Big Sky Guys out of the parking lot, but, thanks to Mykenna's keen eyes, avoided their off-route turn and soon we were rolling across a sage-covered field.
The section between Ephrata and Moses Lake rates as one of my favorites on this route. The wind had died, the sun was low, we had had a good rest, all was right with the world. We skirted the western edge of Moses Lake and then headed south on a strangely busy gravel road. "Where are all of these big trucks and mobile homes going?" Mykenna asked. We soon found out.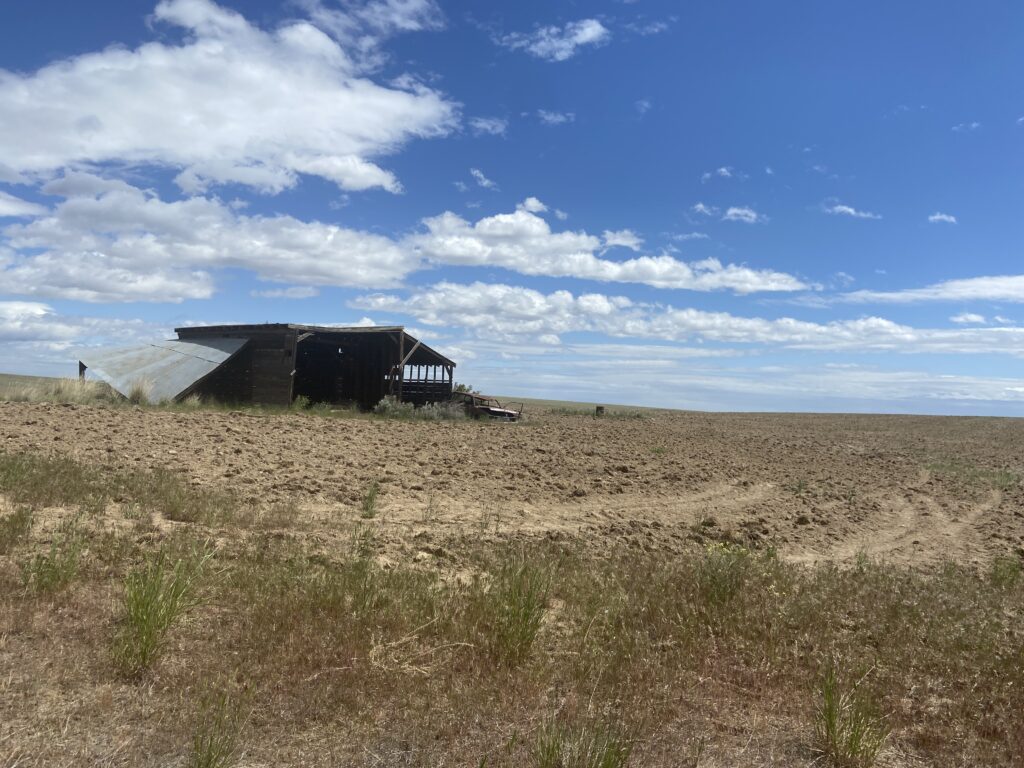 I'm sure I, a loaded down cyclist, was as alien to the folks hanging out at bonfires at the Dunes ORV Park as they were to me. The scene, to me, seemed oddly post-apocalyptic and the air seemed filled with dust, tension and just under the surface violence.
Once past the ORV park we hit a section of road where an oncoming truck crossed the centerline and buzzed us. Now I'm sure that the driver thought this maneuver a bit of harmless fun, but that's because he knew he wasn't going to actually hit us. Mykenna and I didn't know that. When the truck crossed the yellow line I didn't know if the driver was asleep, incapacitated, drunk or just plain old murderous. The threat was as real as a gun to my head. Just as I was about to dump into the ditch the truck corrected its collision course. There are some things I will never understand.
The only part of the Carp Crossing that we saw was what was illuminated by our headlights, which I consider a good thing. A few miles of rough road later we were in the town of Warden. We would need to resupply at the grocery store in the morning, so we rolled half a mile out of town and, contrary to government rules, bivied on the trail.