Writing about the Cross Washington Mountain Bike Race (XWA) is proving to be as difficult as the event itself. I suppose that I'll approach this challenge in the same manner I approached the race – start at the beginning and move steady towards the finish.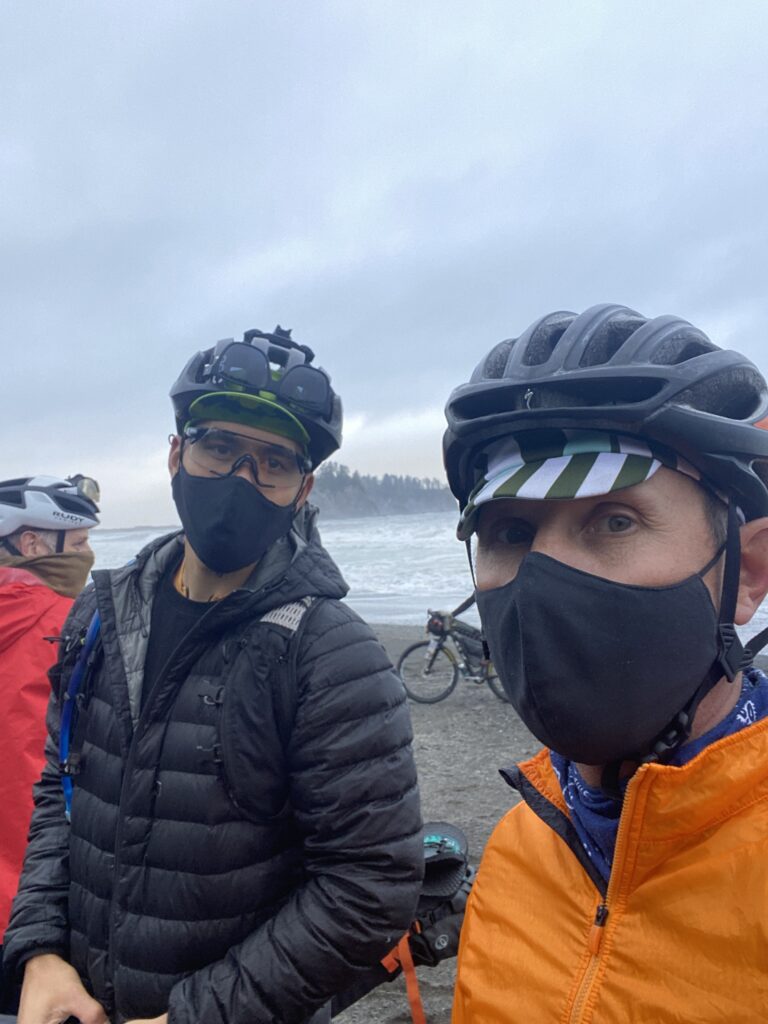 In the Beginning
With road racing being shut down due to COVID-19 the summer of 2020 proved to be my summer of gravel. The 2020 gravel bike scene felt reminiscent of Northwest mountaineering in the early 1990's: an eclectic group of oddballs following in the footsteps of grizzled old timers. Like the alpinists of the '90's we weren't doing anything new, but we were getting out there, pushing it hard and developing our own style. Best of all we getting out there, feeling alive and not going in circles doing the S.O.S.
Gravel day trips led to overnight bikepacking ventures which led to my first bikepacking race – the 2021 XWA. My first packing list included a tent, stove, pot, fuel, food, cup, spoon, towel, pillow and a cool little coffee press. In the end all of these items were pitched in favor of a bivy bag, gas station food and instant coffee served cold.
For a month prior to the race I trained with my Ibis Hakka MX fully loaded. I learned that I could save a few ounces by ditching the expensive handlebar bag in favor of a drybag strapped to the handlebars. Riding fully loaded also taught me the value of riding slow. Wait let's not call it slow, I prefer the word controlled. I was riding in a controlled fashion.
I've done enough endurance activities to know that modulation is king; bonk, hit the wall, crap the bed, meet the man with the hammer, whatever and it's a long slow drag back to normalcy.
I'm comfortable being alone, which is not to say that I enjoy being alone. What I do enjoy is being on the road with a compatible partner, someone to share the experience. The "rules" of the XWA follow those of the Tour Divide which state that the event should be done solo and self-supported. Some of the richest experiences of my life have come while sharing adversity with a good friend. The natural choice for a partner in this endeavor was Mykenna, he and I had been on some big rides together and he and I are on the same wavelength, despite our twenty-five-year age difference. We would be entirely self-sufficient and wouldn't share a tent, a tube, a pump or even a draft. We would be on our own – together. Rationalization.
Day 1 Twilight
I'm not sure whether the clerk at the Forks Motel was Goth or if she was following management's direction to go full vampire, but the pale make-up and blacken eyes was something to ponder while eating our final "descent" meal at the local pizzeria. Back at the hotel, as we were doing final prep on our rigs, my good buddy Steve, who had kindly driven us across the Olympic Peninsula, told us that he would have to return to Seattle due to a family emergency. Steve then disappeared. As Mykenna and I pondered our next move Steve returned with two tee shirts, two pairs of cotton basketball shorts and instructions on where to meet race organizer – Troy Hopwood – for a morning ride to the beach. He'd figured it all out.
A countywide scheduled power outage meant that for the first time in over thirty years I'd start a day without a hot cup of coffee. Even at twenty-four thousand feet on Manaslu I'd been able to brew up a hot cuppa. Coffee is an essential and now I'd be embarking on a major adventure on a can of Starbucks Double Shot Energy. I got the caffeine but not the experience.
Mykenna and I closed the motel room door at five till six leaving behind four Pop Tarts, a wastebasket full of water bottles and our disposable cholo prison garb. We rolled across the deserted main drag to meet Troy who was holed up at neighboring motel. Forks to the start at Rialto Beach is just shy of fifteen miles and Mykenna and I were thankful for the ride; there would be no shortage of miles on this day.
I am fairly new to bikepacking and extremely new to bikepack racing, and when we pulled into the parking lot I felt like a kid on his first day at a new school – everyone else knows everything and I know nothing. Every racer who wasn't from around these parts was definitely getting the cold iron gray Northwest Coast experience.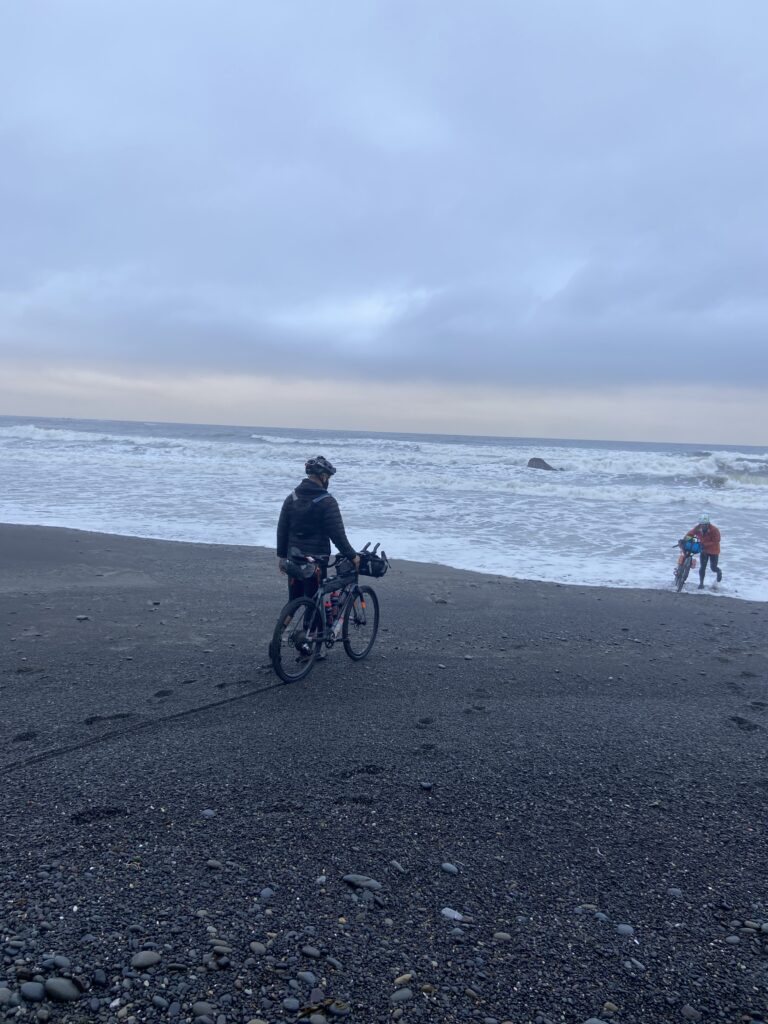 After a tire dip and a group photo, all forty-five or so racers were off. Mykenna and I were a bit slow getting started and by the time we rolled out of the parking lot the fastest half dozen riders were already down the road, never to be seen again. I had spent a month living at under twelve miles per hour and I was worried that I'd have to rein in Mykenna, but happily he was in the same zone from the first pedal stroke. We rolled along meeting a few of the other riders; we passed a few, got passed by a few, but within ten miles we were on our own.
I had studied the route, but only now did I realize that we'd be passing close to Forks but not actually through Forks; coffee would have to wait until the Log Cabin Resort, which I had verified was open. Mykenna and I were rolling along up the first climb when we hit our first snow patch. No big deal just a hundred yards of late season slop. That snow patch was followed by another, then another. No problem, snow problem, just keep moving forward, keep it steady.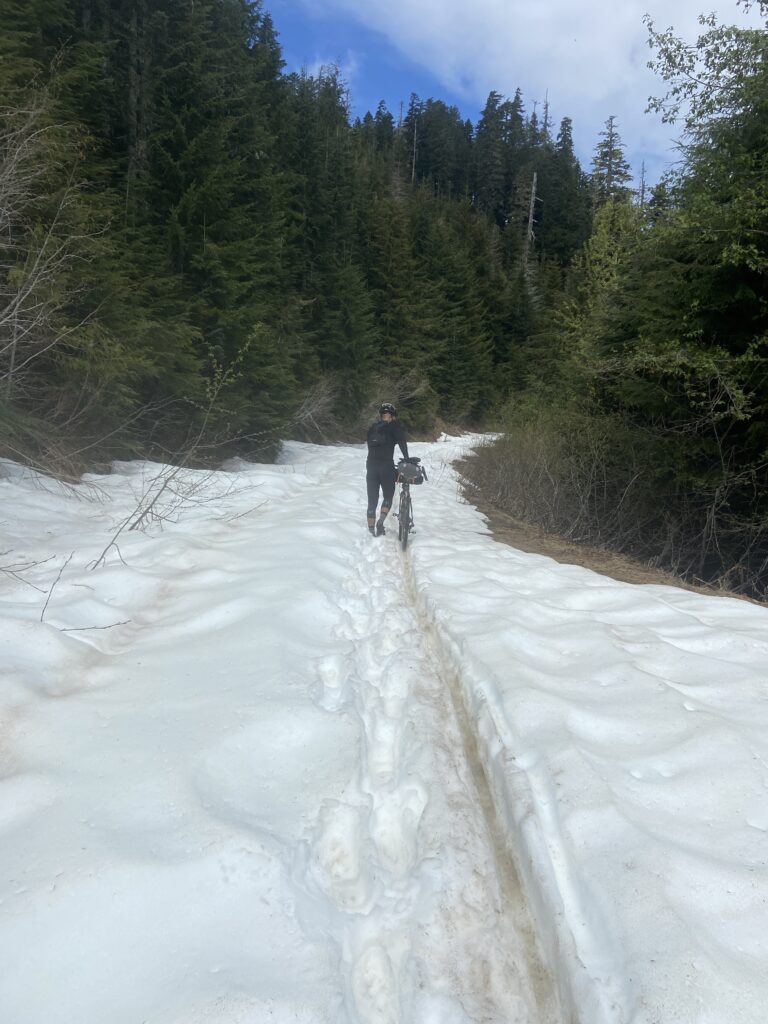 Once over the pass and with the snow behind us we zipped down to the Olympic Discovery Trail, which dropped us onto the Spruce Railroad Grade along the shoreline of Lake Crescent. The last time I rode this section of trail was a wet moonless night and the surface was gravel. The trail is now paved and on this day a bit of cloudy sunshine reflected off of the mountain lake.
The Log Cabin Resort is a half mile off route, but I was jonesing for some hot coffee so we continued straight towards the cool, little-known resort. The coffee was lukewarm, but worth the minimal extra effort, and soon we were back on route heading onto the Olympic Adventure Trail.
The OAT is the result of a focused effort to bring cycling to the Olympic Peninsula. The trial is thought-out and well-designed; it would be fun on anything from a full suspension 29er to a mega-loaded fully rigid gravel rig. It's well worth a visit. I'm happy that the funky "moto barriers" have been dug up and removed.
Following the OAT the route literally flies downhill into Port Angeles where we met up with a couple of comrades outside of the local fancy organic grocery. I made the first lap through the store and other than a bag of nuts and some chocolate covered coffee beans I found nothing of interest. Mykena was more imaginative and came out with two handfuls of food. We decided to go a little off route and eat at the local Taco Time. This was our first lesson on time wasting. We probably burned an hour indecisively rolling around Port Angeles.
After dinner we decided to push on to Sequim where, due to rain, we had booked a hotel room. Hoteling on night one felt a little like cheating, but we figured better warm and dry than cold and wet, especially on night one. We rolled into the Red Lion at around ten thirty, showered and fell asleep immediately.